Statement for media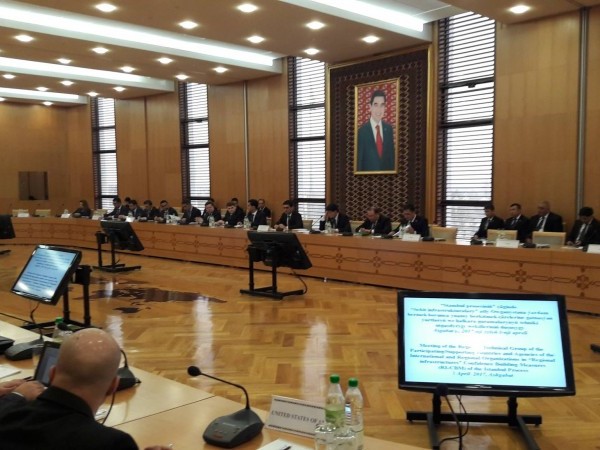 On April 4, 2017, the Ministry of Foreign Affairs of Turkmenistan, with the support of the OSCE Center in Ashgabat, held a meeting on preparations for the 7th Regional Economic Cooperation Conference on Afghanistan (RECCA VII) to be held in Ashgabat on November 14-15, 2017.
Representatives of Afghanistan, Azerbaijan, China, Georgia, Iraq, Iran, Pakistan, Russia, Tajikistan, Turkey, Uzbekistan and Italy attended the meeting.
In particular, the meeting participants discussed the draft plan and the calendar of events envisaged for the preparation and during the RECCA VII Conference itself. These events, along with the main part of the Conference, include the possibility of holding a scientific and practical symposium, a business forum, a joint exhibition of goods of regional producers.
The participants of the meeting drew attention to the importance of regional cooperation and the adoption of practical steps to implement vital projects on the territory of Afghanistan in the field of energy, transport and communications.
As a result of the meeting, it was agreed to start developing the final document of the forthcoming Conference, as well as proposals on the agenda and the plan of events.
The Regional Economic Cooperation Conference on Afghanistan, initiated in 2005 in Kabul, is called upon to consolidate the efforts of the countries of the region in stabilizing the situation in Afghanistan and promoting regional economic integration of South and Central Asia.