The business forum in Ashgabat discussed aspects of regional economic cooperation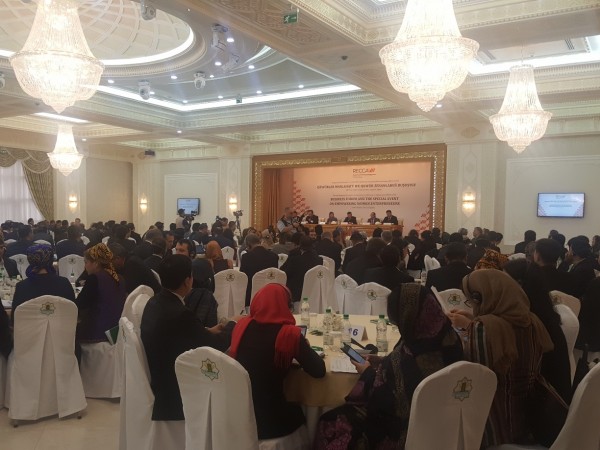 On November 14, 2017, within the framework of the 7th Conference of Regional Economic Cooperation for Afghanistan (RECCA VII), a business forum was held in Ashgabat, during which representatives of state organizations and business structures from a number of countries of the region, authoritative international organizations, and the media met.
The Forum was aimed at intensifying cooperation, consolidating efforts in implementing promising investment projects implemented with the participation of Afghanistan, strengthening ties between business circles, including among women entrepreneurs seeking to strengthen trade relations, exploring the regional market and export opportunities, and exchanging experiences.
In the speech of the participants of the business forum, in particular the wife of the President of the Islamic Republic of Afghanistan, Ashraf Ghani, Mrs. Rula Gani, it was emphasized that the established trade relations with caravan routes through the countries of the region served as the basis for establishing economic ties between East and West. In modern conditions, the strengthening of fruitful contacts, the integration of the countries of the region in the system of world economic relations is of great importance.
Within the framework of the plenary sessions devoted to the activities of women entrepreneurs, it was noted the importance of identifying new mechanisms for establishing contacts, enhancing export competitiveness, developing trade, increasing trade turnover, and stimulating business partnerships. Noting the great potential and wide opportunities in this direction, the speakers emphasized that the activities of the Chambers of Commerce and Industry are of great importance in supporting small and medium-sized enterprises.
The forum, as emphasized, has become an effective business platform where participants were able to share experiences, get first-hand information, talk about the successes associated with export and trade, transit of goods, and establish new contacts. The forum also hosted bilateral meetings.
In conclusion, the participants of the meeting once again expressed their gratitude to the President of Turkmenistan Gurbanguly Berdimuhamedov for assistance in holding the forum, noting its importance for strengthening the relations between the business communities of the countries in the new economic realities and also meeting the common interests - ensuring sustainable development of the region.