Turkmenistan and Georgia broaden bilateral relations in different spheres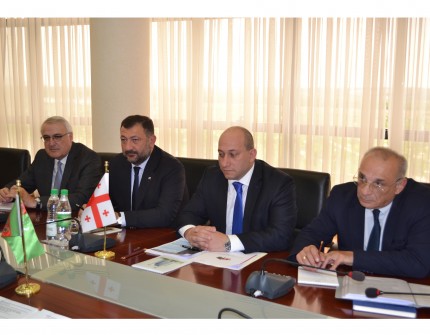 On the 21st of May 2019, political consultations between the Ministries of Foreign Affairs of Turkmenistan and Georgia were held in the premises of the Ministry of Foreign Affairs of Turkmenistan. The Georgian delegation was headed by the Deputy Minister of Foreign Affairs of Georgia Alexander Khvtisiashvili who has arrived to Turkmen capital on a working visit.
During the consultations, the parties discussed bilateral relations in political, trade-economic and transport-technological spheres. Also the collaboration of two friendly countries in the framework of reputable international organizations was discussed. In this regard, the sides expressed special significance of mutual support of candidacies in various elective bodies near the international organizations. The participants also considered the status of the legal base of cooperation and made proposals on its expansion.
The parties thoroughly discussed the issues of carrying out the first session of the Working Group on trade issues in the framework of Turkmen-Georgian Intergovernmental Commission on Economic Cooperation, as well as the active participation of Georgian side in the work of the First Caspian Economic Forum.
The sides noted that Turkmenistan and Georgia attach great importance to the dialogue in different formats, expressed interest in intensifying mutually beneficial ties between the business circles of the two countries. In this regards, the parties specifically highlighted the dynamic development of bilateral relations in different areas and made proposals on mutual hosting of business forums.
As was stressed during the negotiations, the Georgian side specifically underlined the importance of establishing mutually beneficial contacts in the area of logistics, taking into consideration all the necessary conditions created.