Ambassador of Indonesia presented copies of his credentials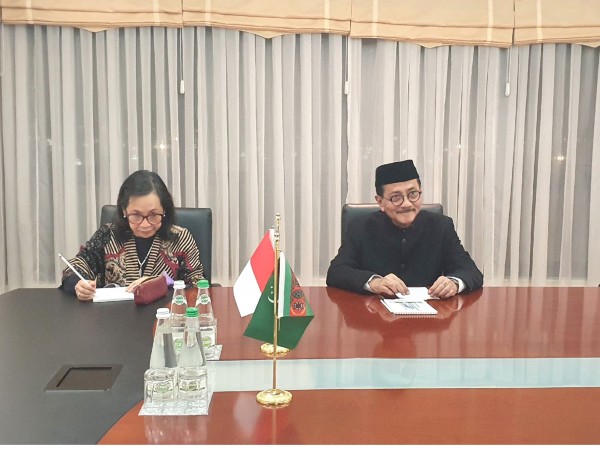 On December 8, 2022, a meeting was held at the Ministry of Foreign Affairs of Turkmenistan with the newly appointed Ambassador Extraordinary and Plenipotentiary of the Republic of Indonesia to Turkmenistan (with residence in Tehran) Ronny Prasetyo Yuliantoro, who arrived in Ashgabat to present his credentials.
At the beginning of the meeting, the Ambassador of Indonesia presented copies of his credentials to the Deputy Minister of Foreign Affairs of Turkmenistan V. Hajyiev and assured that he would make every effort to bring relations between Turkmenistan and Indonesia to a qualitatively new level.
The Deputy Minister congratulated the Ambassador on his appointment and wished him success in his new career. He also noted that December 10 marks the 30th anniversary of the establishment of diplomatic relations between the two countries and congratulated the Ambassador on this significant date.
V. Hajyiev underlined that one of the important priorities of the national foreign policy of Turkmenistan is the activation of a full-scale partnership with the countries of South-East Asia. Turkmenistan is interested in further strengthening and expanding bilateral relations with the Republic of Indonesia and intends to soon accredit the Ambassador with residence in a third country.
The diplomats also exchanged views on the issues of intensifying trade, economic and humanitarian cooperation, on the prospects for the development of the national markets of the two countries and the exchange of proposals on profitable areas of investment for Turkmen and Indonesian organizations of various forms of ownership.