Meeting with the appointed Ambassador of the Hellenic Republic in Turkmenistan Ms. Ekaterini Nassika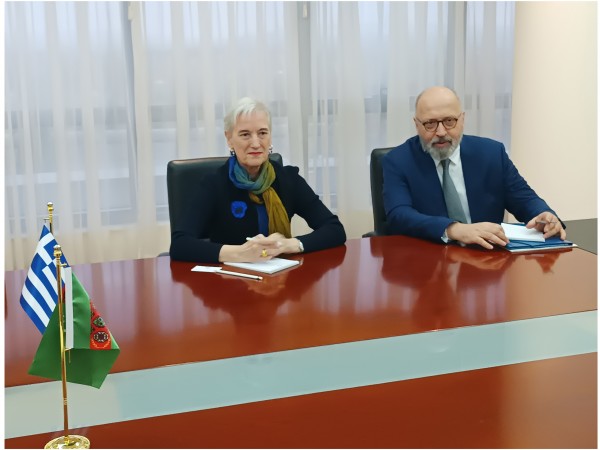 On December 9, 2022, the Deputy Minister of Foreign Affairs of Turkmenistan V. Hajiyev met with the appointed Ambassador Extraordinary and Plenipotentiary of the Hellenic Republic to Turkmenistan (with residence in Moscow), Ms. Ekaterini Nassika, who arrived in Turkmenistan on a working visit.
At the beginning of the meeting, Ms. Ekaterini Nassika presented copies of her credentials. Then a thorough exchange of views took place on the prospects for Turkmen-Greek relations in the political, trade-economic, educational, cultural, humanitarian and tourism spheres.
The diplomats agreed that the meetings, negotiations and agreements reached at the highest level give impetus to the development of interstate dialogue. In this context, the parties agreed to consider the possibility of organizing official visits of the heads of the two countries or meeting on the sidelines of upcoming international conferences or summits.
The Turkmen side suggested considering the possibility of organizing and holding inter-MFA consultations to discuss the current state of affairs and identify promising vectors for further cooperation.
The diplomats considered the issue of expanding trade and economic cooperation. In this regard, the Turkmen side proposed to consider the issue of creating an Intergovernmental Turkmen-Greek commission for trade and economic cooperation. In addition, it was proposed to explore the possibilities of establishing bilateral economic cooperation in such areas as the banking sector, agriculture, transport, energy, shipping, food production and processing, construction and high technology.
In terms of enhancing cooperation in the cultural and humanitarian sphere, the parties proposed holding mutual Days of Culture, festivals, exhibitions and film screenings. Given the rich experience of Greece in holding major sports competitions, it was proposed to develop cooperation between the sports departments of the two countries.