Turkmenistan - USA: New Perspectives of Business Partnership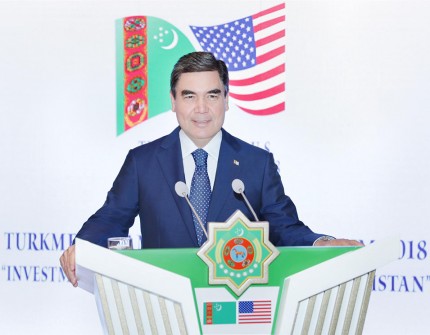 President Gurbanguly Berdimuhamedov, who is now on a working visit to the United States of America, took part in the Turkmenistan-USA business forum, held at the "Mandarin Oriental" hotel.
The meeting of the head of state with representatives of the business circles of the two countries is of great importance for the further development of trade and economic partnership contacts, the opening of new areas of joint efforts. It is also significant because it takes place in the year of the 10th anniversary of the founding of the Turkmenistan-USA Business Council, which was created on the initiative of the Turkmen leader, expressed here, in New York, in the Rockefeller Center, before the leaders of hundreds of American companies and concerns.
The business forum was opened by the executive director of the Turkmenistan-USA Business Council, Eric Stewart. Noting the huge interest of leading American companies in deepening multifaceted partnership, Eric Stewart confirmed the firm intention of the US business community to expand its presence in the Turkmen market and take an active part in implementing large-scale government programs in the interests of the people of the country.
Then President of Turkmenistan Gurbanguly Berdimuhamedov took the floor.
Welcoming the leaders and representatives of American companies that have been cooperating with our country for several years, as well as businessmen who are interested in working together with Turkmen partners, the Turkmen leader said that such a representative structure of the forum regards the desire of the American business community to expanding mutually beneficial contacts with Turkmenistan.
During the further work of the business forum, presentations of new projects from leading US companies were held. So, the company "John Deere" presented a new model range of agricultural machinery, specially developed by design engineers, taking into account the soil and climatic conditions of the regions of Turkmenistan.
Managers of the company "Boeing" familiarized customers with aviation technology of the new modification, told about the technical characteristics of economical passenger liners, planned for mass production.
The forum was continued by the presentations of the representatives of "Case", "Caterpillar", "General Electric" and other companies, who noted the personal role of President Gurbanguly Berdimuhamedov in successfully promoting Turkmenistan along the path of technological modernization and broad cooperation, creating conditions for fruitful work in the country for foreign companies.
Summing up the business forum, the Executive Director of the Turkmenistan-USA Business Council, Eric Stewart noted that the verified strategic line of President Gurbanguly Berdimuhamedov, aimed at further integrating the Turkmen economy into the global system, brings significant results and opens up new prospects for cooperation, the opportunity to realize bolder ideas and initiatives.