President of the Republic of Korea visits Balkan province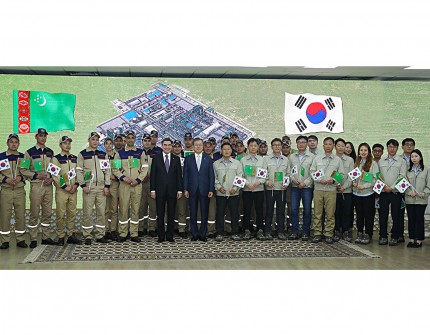 On April 18, 2019 President of Turkmenistan Gurbanguly Berdimuhamedov arrived at the international airport of Turkmenbashi. After some time, an airliner of the President of the Republic of Korea landed in the airport of the seaside city, decorated on the occasion of a momentous event with the State flags of the two countries. The distinguished guest was given proper honors.
The President of Turkmenistan warmly welcomed his colleague. From the airport, a motorcade of heads of states drove for the township of Kiyanly, where a polymer factory was commissioned last fall.
The project, worth more than 3 billion 400 million US dollars, was implemented by the Turkmengaz State Concern in cooperation with foreign partners LG International Corporation and Hyundai Engineering (Republic of Korea), and TOYO Engineering Corporation (Japan). The company produces seven types of polyethylene and five types of polypropylene, which are obtained by introducing various additives and fillers into the polymeric material at high temperature.
Presidents Gurbanguly Berdimuhamedov and Moon Jae-in inspected the polymer plant in Kiyanly. The director of the company told the heads of state about the organization of activities of this large industrial facility.
Speaking to the audience during a visit to the polymer plant in Kiyanly, the President of Turkmenistan thanked all the specialists and builders who participated in the creation of this large gas and chemical complex.
As the head of state noted, over the years, Korean companies have made a significant contribution to the development of the chemical and energy industry of Turkmenistan. The commissioning of another modern gas-chemical complex for the production of polyethylene and polypropylene is a reflection of the close cooperation and strengthening friendship between Turkmenistan and the Republic of Korea.
We will be happy to welcome representatives of Korean business to the promising Turkmen market, large companies that build facilities using the most advanced technologies, taking into account the environmental component, train qualified personnel and are interested in effective and long-term partnership, President Gurbanguly Berdimuhamedov said.
The President of the Republic of Korea highly appreciated the level of technical and technological equipment of the enterprise, emphasizing the indisputable leadership of Turkmenistan in many positions of the energy complex. Thanking for the opportunity to get acquainted with the activities of the gas chemical giant, Moon Jae-in noted the presence of great prospects for mutually beneficial cooperation between the two countries in the oil and gas sector.
After the visit to the polymer plant in Kiyanly, the President of the Republic of Korea went to the international airport and departed from the city of Turkmenbashi.