Open Doors Day, dedicated to the 25th anniversary of the accession of Turkmenistan to the United Nations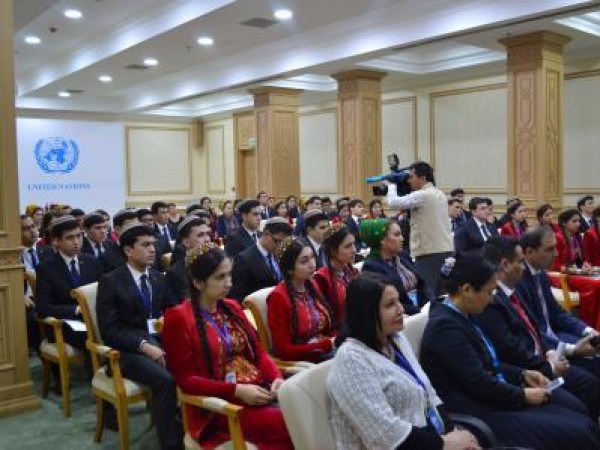 Today, on March 3, 2017 an Open Doors Day, dedicated to the 25th anniversary of Turkmenistan's joining the United Nations was held in the conference hall of the UN building in Ashgabat.
The Open Doors Day was attended by heads and employees of international organizations of the UN system working in Turkmenistan, representatives of the Ministry of Foreign Affairs of Turkmenistan, the students and teachers of the Institute of International Relations of the Ministry of Foreign Affairs of Turkmenistan, as well as representatives of public organizations and mass media of the country.
In the lobby of the UN building there was a photo exhibition "UN 25 years in Turkmenistan." Colorful exhibition, prepared by the UN agencies in Turkmenistan included the collection of historical photographs, documents and publications relating to the activities of the UN, its agencies and specialized institutions in Turkmenistan for 25 years of multifaceted cooperation.
Then the presentations of the heads of the United Nations' agencies under the title "25 years of successful cooperation of the United Nations in Turkmenistan" started. UN Resident Coordinator in Turkmenistan Elena Panova delivered the opening speech, where she spoke about the activities of the UN, on the projects which have been jointly carried out and are being carried out during 25 years of close cooperation. She expressed sincere gratitude to the Turkmen side for the excellent arrangements of representation office created in Turkmenistan.
The presentations was also made by the Deputy Minister of Foreign Affairs of Turkmenistan V.Hadjiev, UNICEF Representative in Turkmenistan Shaheen Nilofer, UNDP Deputy Resident Representative in Turkmenistan Vitali Vremish, Regional Representative of the UN-Women multi-country office Elaine Conkievich and other representatives of the agencies and the specialized UN institutions in Turkmenistan. During their speeches short videos about the activities of the agencies have also been demonstrated.
All the speakers pointed out that the President of Turkmenistan Gurbanguly Berdimuhamedov pays great attention to the multifaceted cooperation between Turkmenistan and the United Nations and has always stressed that the strategic partnership with the UN is a key focus of the foreign policy of Turkmenistan.
At the end of the Open Doors Day there was a session of the "questions and answers", in which the heads of UN agencies gave detailed answers to all the questions asked, and then held informal communication with the participants.