The monument to Islam Karimov opened in Turkmenabat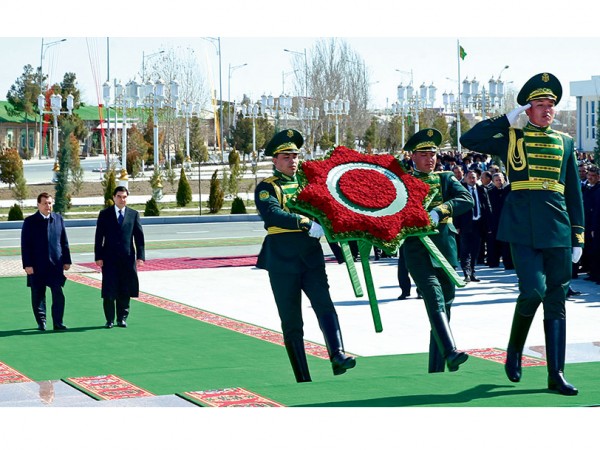 The monument dedicated to the first President of Uzbekistan Islam Karimov, whose name was given to one of the streets of administrative centre of Lebap velayat, was opened in Turkmenabat on the 7th of March, 2017. President of Turkmenistan Gurbanguly Berdimuhamedov and President of the Republic of Uzbekistan Shavkat Mirziyoyev took part in the opening ceremony.
Speaking to the participants, the President of Turkmenistan highlighted special role of Islam Karimov in the development of interstate Turkmen – Uzbek relations, which always rested on traditional ties of friendship and brotherhood of the peoples.
The best monument to the first President of the Republic of Uzbekistan is a worthy continuation of his work, President Gurbanguly Berdimuhamedov said, expressing the conviction that a high level of mutual understanding, common historical roots will continue to serve as a solid foundation for constructive interstate interaction. Turkmen and Uzbek Leaders laid flowers to the monument of Islam Karimov.
The venue of the next celebration, timed to the state visit of the President of the Republic of Uzbekistan Shavkat Mirziyoyev, was the Palace of Rukhyet of Turkmenabat, where a gala concert of art masters of Turkmenistan and Uzbekistan was held.
Under the arches of the magnificent hall sounded beautiful songs, incendiary dances and folk melodies, glorifying the beauty of their native land, the indestructible friendship of neighboring peoples were performed.
Then the motorcade of the Presidents of Turkmenistan and Uzbekistan left the Rukhyet Palace for Turkmenabat airport. At the airport, Turkmen leader Gurbanguly Berdimuhamedov said good-bye to the head of Uzbekistan. The Presidents of the two countries once again exchanged good wishes. After completing his visit to Turkmenistan, President Shavkat Mirziyoyev left for Tashkent.