The special issue of the magazine about Turkmenistan was released in Georgia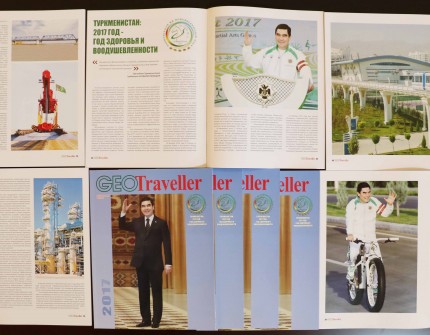 In early April 2017, with an active assistance of the Embassy of Turkmenistan in Georgia, the special issue of "GEO Traveller" International magazine was released.
The first pages of the magazine open with Inauguration speech of President of Turkmenistan Gurbanguly Berdimuhamedov in February this year.
It is significant that 2017 marks the 25th anniversary of the establishment of diplomatic relations between Turkmenistan and Georgia, and one of the articles is dedicated to the Turkmen-Georgian relations, which stress the dynamic growth of cooperation in various areas.
The magazine has also covered the measures conducted by Turkmenistan at the national and international levels to prevent climate change, issues of the rational and efficient use of fuel and energy resources and the role of transit and transport corridors in ensuring international cooperation, stability and sustainable development.
A separate article is devoted to the main directions of Turkmenistan's energy policy. It was noted that under the Turkmenistan's Chairmanship at the Energy Charter Conference, due to be held in Ashgabat in November, 2017, the great attention would be paid to the issues of energy efficiency, reliability and safety of international energy flows, implementation of international transit of energy on an equal and equitable basis and others.
In the context of the Year of Health and Inspiration declared in Turkmenistan, the magazine has also paid a special attention to the sports policy undertaken by the President of Turkmenistan and to the major international sports event – V Asian Indoor and Martial Art Games, which will be held on September 17-27, 2017 in Ashgabat. The Games will increase the prestige of Turkmenistan on the international arena, activate diverse international cooperation, will have a positive impact on developing of friendly and business relations and will promote sport and healthy life style.
Magazine's special issue will serve for strengthening the ties of the Turkmen-Georgian friendship as well as give an opportunity for thousands of readers abroad to know more about Turkmenistan.