Turkmenistan and Afghanistan are committed to developing bilateral ties across the entire spectrum of cooperation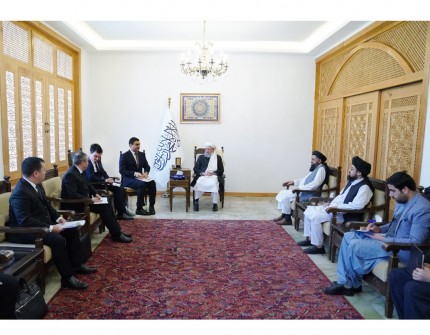 At present, the Turkmen delegation headed by the Deputy Minister of Foreign Affairs of Turkmenistan V.Hajiyev is in Afghanistan.
Today, on January 8, the delegation of Turkmenistan held a series of meetings in the government of Afghanistan. In particular, meetings were held between the Deputy Minister of Foreign Affairs of Turkmenistan and the Deputy Chairman of the Government of Afghanistan Abdul Salam Hanafi, with the Deputy Minister of Foreign Affairs of Afghanistan Sher Mohammad Abbas Stanekzai, with the Minister of Mines and Petroleum Shahabuddin Delawar, and with the Deputy Minister of Agriculture, Irrigation and Livestock Mawlawi Sadar Azam.
During the constructive talks, the sides discussed current issues of the bilateral agenda and reviewed the key areas of Turkmen-Afghan cooperation in the political and diplomatic, trade and economic, cultural and humanitarian spheres.
The parties paid special attention to intensifying the pace of joint projects in key sectors. In this regard, the two countries expressed their readiness for further cooperation in promoting construction of the Turkmenistan-Afghanistan-Pakistan-India (TAPI) gas pipeline, the Turkmenistan-Afghanistan-Pakistan (TAP) power transmission line and the railroad from Turkmenistan to some provinces of Afghanistan.
The priority issues of this meeting include ensuring the well-being and stable development on the Afghan land and the possibility of integrating the country into large-scale economic, energy and transport-communications projects of regional importance.
During the current meeting, the readiness of the Turkmen side, as a neighboring and neutral state, to promote establishment of a relevant dialogue and create conditions for the soonest establishment of peace, harmony and unity in Afghanistan was once again emphasized.
The Afghan side expressed special gratitude to the leadership and people of Turkmenistan, who provide regular support to the neighboring country.