Bilateral political consultations between Turkmenistan and the State of Israel were held in Jerusalem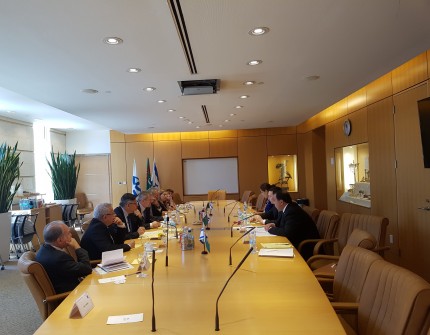 On June 5, 2017, political consultations took place in Jerusalem between the foreign affairs agencies of Turkmenistan and the State of Israel at the level of deputy foreign ministers.
During the consultations, the sides exchanged views on the state of bilateral relations and discussed prospects for intensifying partnership in various areas. Issues of further expansion of relations in political, trade-economic and cultural-humanitarian spheres were discussed, opportunities for development of cooperation in the sphere of industry, high technologies, water resources, health and tourism were considered. Noting the high level of political and diplomatic cooperation, the sides discussed the possibilities for further expansion of partnership in this direction. In this context, the role of visits at high levels and the commitment of the parties to further implementation of the reached agreements were noted.
Particular attention was paid to intensifying bilateral cooperation in the trade and economic sphere. Also, the urgency of further development of cooperation within the framework of international organizations was noted.
At the end of the meeting, the sides expressed satisfaction with the current state of interaction between the two countries and stressed the importance of permanent meetings at various levels in order to continue to deepen mutually beneficial relations.