A meeting was held to discuss issues related to Turkmenistan's accession to the WTO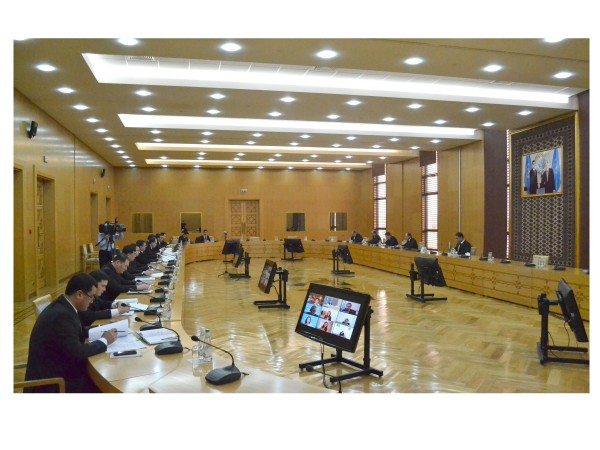 On March 25, 2022, a regular meeting of the Government Commission to study issues related to the accession of Turkmenistan to the WTO, as well as a consultative meeting on the process of joining the WTO and on the WTO Agreement on Trade Facilitation together with the UN Economic Commission for Europe (ECE) was held via videoconference.
From the Turkmen side, the meeting was attended by the Deputy Minister of Foreign Affairs of Turkmenistan V. Hajiyev, heads and representatives of a number of relevant ministries and departments of the country. The meeting was also attended by representatives of the WTO Secretariat, UNECE, the UN Resident Coordinator in Turkmenistan, the Permanent Representative of Turkmenistan to the WTO, as well as independent experts.
During the meeting, the parties noted the active dynamics of Turkmenistan's partnership with the WTO. The ultimate goal of the country in cooperation with the WTO is to become a full member of this Organization, which is also provided for in the recently approved Program "Revival of a new era of a powerful state: the National program for the socio-economic development of Turkmenistan in 2022-2052", as well as in Foreign Trade Strategies of Turkmenistan for 2021-2030, V. Hajiyev noted.
As is known, in July 2020, Turkmenistan received the status of an observer in the WTO, and in February of this year, during the regular meeting of the WTO General Council, a decision was made to grant Turkmenistan the status of an acceding country ("active observer") to the WTO.
During the meeting, the Turkmen side stressed that as part of the implementation of the Foreign Trade Strategy of Turkmenistan in two stages, it is planned to implement a large number of tasks to complete the preparatory measures for Turkmenistan's accession to the WTO, according to the Roadmap for the implementation of this document at the first stage.
The second stage of the Strategy envisages Turkmenistan's accession to the WTO as a full member of the Organization and further development of the foreign trade system, logistics infrastructure and expansion of Turkmenistan's foreign trade in the new realities.
Also, during the meeting, the timeliness of joint steps to implement the Action Plan for the development of a Memorandum on the foreign trade regime of Turkmenistan, which was prepared as part of ADB technical assistance and support, was emphasized.
In conclusion, the participants considered a number of priority issues regarding the continuation of work to enhance cooperation between Turkmenistan and the WTO.