Turkmenistan and Georgia discussed development of mutually beneficial cooperation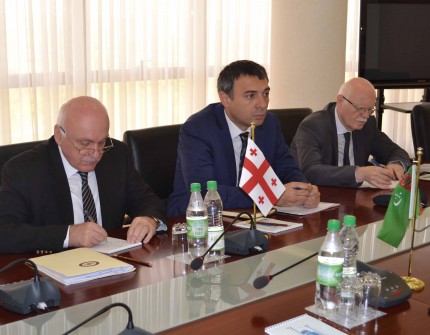 On August 8, 2017 there was a meeting at the Ministry of Foreign Affairs of Turkmenistan with the delegation of Georgia led by the Deputy Minister of Finance of Georgia Nikoloz Gagua who arrived on a working visit to Ashgabat.
During the talks, noting the positive dynamics of political and diplomatic cooperation, the sides discussed trade and economic relations, as well as the opportunities for major strategic projects in this area. The Turkmen side expressed its commitment to developing cooperation with the countries of the Caucasus region. In this context, the role of visits at high levels and the commitment of the parties to further implement the agreements reached on a systematic basis was noted.
Speaking about bilateral cooperation in the cultural and humanitarian sphere, the parties discussed the possibilities of activating joint contacts, taking into account the derivation of the relations in this direction to a qualitatively new level.