The press conference was held in the Olympic village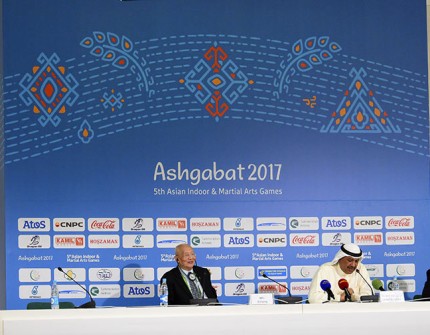 On September 18, 2017 the press conference for the representatives of the media was held in the Media centre of the Olympic village. Substantive questions of the press conference were aimed at strengthening productive relations, improving the efficiency of joint measures on coverage of sports competitions of the 5th Asian Indoor and Martial Arts Games.
The meeting participants emphasized that cooperation of Turkmenistan's mass media representatives with sports press associations, leading journalists would be mutually beneficial exchange of experience, and positively impact on increasing the level of coverage of the current competitions.
As President of the Olympic Council of Asia Sheikh Ahmad Al-Fahad Al-Sabah noted in his speech, a choice decision of the capital of Turkmenistan to host such important competitions caused the big public resonance not only in our country but in the world. This decision was the result of the hard work, pursued by President Gurbanguly Berdimuhamedov on approval of the healthy lifestyle principles, popularization of mass health and fitness movement and elite sport among the population.
During the press conference, it was underlined that holding of such a large-scale sporting event, which gathered representatives of Asia and Oceania in Ashgabat, became a forerunner of the constructive partnership, good will and good neighborliness – all those principles, to which neutral Turkmenistan steady adheres in its foreign policy.
Foreign visiting teams noted with satisfaction that every year our country becomes known to the world not only as the state with a developed economy, but also as the sporting nation, evidenced by the grand in scale, beauty and content opening ceremony of the 5th Asian Indoor and Martial Arts Games. The conference participants expressed their close cooperative attitude towards the Turkmen side on the issue of conducting the largest sports events, including their information support.