Priority positions and initiatives of Turkmenistan were submitted to the 72nd session of the UN General Assembly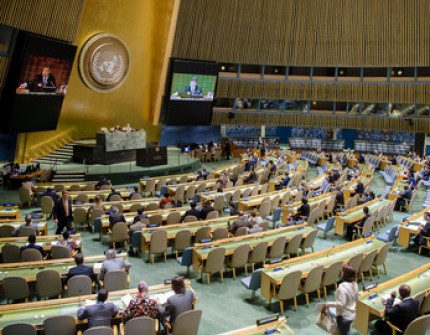 On September 25, 2017, the Permanent Representative of Turkmenistan to the UN, Ambassador A.Ataeva, in the course of general political debates of the 72nd session of the UN General Assembly, spoke on behalf of the delegation of Turkmenistan.
The delegation of our country said that the Government of Turkmenistan strongly condemns terrorism in all its forms and manifestations and recognizes that the prevention of terrorism is one of the most important components of ensuring national, regional and global security, and Turkmenistan welcomes the establishment of the UN Counter-Terrorism Directorate.
It was noted that the implementation of the Sustainable Development Goals (SDG) is one of the key directions of Turkmenistan's strategic cooperation with the UN, and that in 2015, 17 objectives, 148 tasks and 193 SDG indicators were selected and adopted at the Government level by the UN.
Stressing the important role played by sport in the implementation of the Agenda for Sustainable Development until 2030, it was underlined that in these days in Ashgabat the Fifth Asian Indoor and Martial Arts Games are held, in which take part national teams of 65 countries, including 19 countries of Oceania and the refugee team, who for the first time take part in these Games.
The Turkmen side expressed her gratitude to all countries for supporting the initiative of Turkmenistan and Brazil and the adoption of the Joint Statement on Encouragement the Valuable Contribution of the Olympic Teams of Refugees to Consolidation Peace and Human Rights in the framework of the 36th session of the UN Human Rights Council held on September 15, 2017 in Geneva.
Noting the role of preventive diplomacy in preventing conflicts and eliminating the reasons that cause them, it was recalled that this year marks the 10th anniversary of the establishment of the Regional Center for Central Asia and announced that her delegation intends to submit a draft resolution to the First Committee of the UN General Assembly in support of the mechanisms of preventive diplomacy.
It was announced that Turkmenistan will continue to actively promote the implementation of adopted international community's decisions, in particular, resolutions of the UN General Assembly No. 69/213 in 2014 and the No. 70/197 from 2015, aimed at building new and strengthening existing international transport and transit corridors.
Referring to the Ashgabat Declaration adopted on the results of the Global Conference on the Sustainable Transport and effective implementation of the objectives of the Agenda until 2030, the delegation added that during the current session of the UN General Assembly Turkmenistan intends to introduce to the Second Committee the draft resolution entitled "Strengthening the connection between all modes of transport to achieve Sustainable Development Goals."
In conclusion, the delegation confirmed readiness of Turkmenistan to find new approaches and ways of overcoming the challenges facing humankind and Turkmenistan's firm commitment to cooperation with the UN.