Days of Russian culture opened in Turkmenistan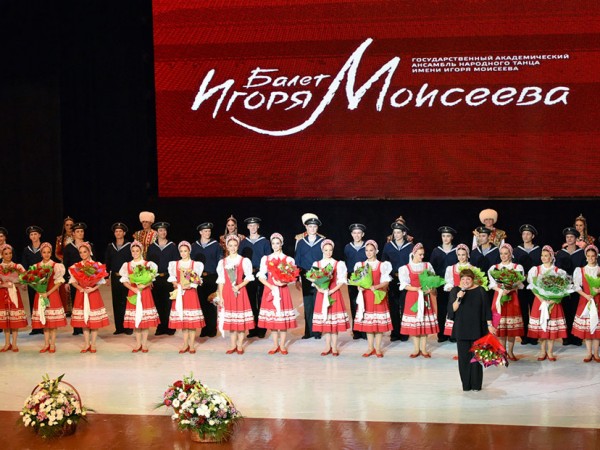 On October 2, 2017, the opening ceremony of the Days of Culture of the Russian Federation in Turkmenistan was held. The creative action is timed to the official visit of Russian President Vladimir Putin to Ashgabat and demonstrates the importance of the cultural and humanitarian sphere in the strategic partnership of the two friendly states.
Representatives of the sphere of culture, mass media, creative intelligentsia, the youth of the capital, and numerous admirers of art of the Russian people gathered in the hall of the Palace of Mukams of the State Cultural Center.
The leaders of the sphere of culture of the two countries addressed to the audience with the words of welcome.
The program of performances in Ashgabat is symbolically called "Visiting and home", which reflects the variety of its acts representing the dances of different nations of the world. The right to represent the culture of Russia was granted to the Igor Moiseyev State Academic Folk Dance Ensemble.
Within the framework of the Days of Culture of the Russian Federation in Turkmenistan, a photo exhibition entitled "The Nature of the Russian North" was opened in the foyer of the Mukams Palace. The photographs show the majestic beauty of the White Sea, the pristine northern landscapes, picturesque rivers and lakes, unique monuments of wooden architecture, as well as representatives of the animal world inhabiting the North.
In the foyer of the Mukams Palace there are also exhibitions on the rich spiritual heritage of Turkmenistan and modern achievements of our country in the field of culture and art. The State Museum of the State Cultural Center, the State Museum of Fine Arts presented their exhibits - samples of decorative and applied art. In the exposition there are the works of teachers and students of the State Academy of Arts.
On October 3, as part of a cultural event there will be screenings of contemporary Russian feature films at the "Ashgabat" cinema center. The Turkmen State Institute of Culture will host a master class for artists of the Igor Moiseyev Ensemble for students of the choreographic school and dance groups of Ashgabat. And in the evening on the stage of the Mukams Palace, Russian dancers will once again present their art to the residents and guests of the Turkmen capital.
A cultural program has also been prepared for guests from Russia, which includes acquaintance with the sights of Ashgabat, unique exhibits of its museums, the State Historical and Cultural Reserve "Old Nisa".