A briefing on the international rally (Turkmen Desert Race) "Amul-Khazar 2018" was held in the Ministry of Foreign Affairs of Turkmenistan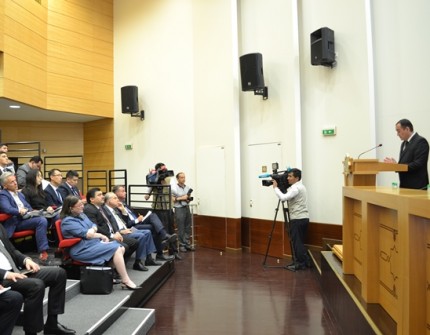 On July 5, 2018, a briefing was held in the premises of the Ministry of Foreign Affairs of Turkmenistan devoted to the issues of familiarization with the international car rally (Turkmen Desert Race) "Amul - Khazar 2018" in Turkmenistan. The event was organized by the Ministry of Foreign Affairs of Turkmenistan in conjunction with the National Olympic Committee, the Ministry of Internal Affairs, Ministry of Sport and Youth Affairs and the Motor Sport Federation of Turkmenistan.
The briefing was attended by the representatives of the Embassies and international organizations, as well as representatives of foreign media accredited in Turkmenistan.
At the briefing, the participants were told in detail about preparations for the forthcoming international rally (Turkmen Desert Race) "Amul - Khazar 2018", the qualifying stage and that the upcoming rally-raid is not only a grandiose sports event, but also a symbol of Turkmenistan's commitment to active policy in the sphere of the development of international transit and transport corridors and creation of multimodal routes. The special status of this large-scale motor sport project is attached by the fact that the President of Turkmenistan Gurbanguly Berdimuhamedov is not put forward the idea of ​​the competition, but also personally patronized its implementation from the organizational issues to practical action.
Participants of the event were informed that the race in Turkmenistan will be held from 11 to 15 September 2018 on the route Amul - Khazar (9-10 September - preparatory days). The participation is allowed cars, trucks and ATV class SSV. The 1,500 kilometer long route is laid through the Karakum Desert, as well as through other picturesque places in the country. The finish of the competition will take place on the shore of the Caspian Sea in the Avaza National tourist zone. It was also noted that the "Amul - Khazar 2018" rally was conceived as an international platform for interaction of different cultures and peoples, since sport is a universal language of friendship that opens up new opportunities for cooperation.
During the briefing representatives of foreign media and diplomats received not only detailed information on the rally "Amul - Khazar 2018" presented by the speakers, but also the opportunity to ask their questions.
At the end of the briefing, it was stressed that by proposing the idea of ​​holding such a large-scale sporting event, Turkmenistan once again demonstrates to the international community its position as a peacemaker country, a creator-country.