Presentation of the TAPI gas pipeline was held in New York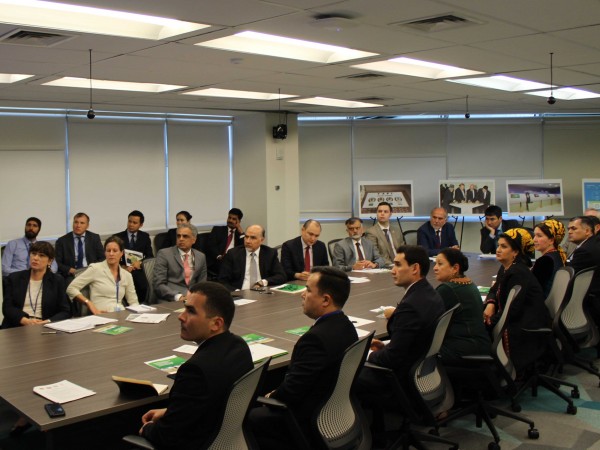 On July 18, 2018, at the UNDP headquarters in New York, the Permanent mission of Turkmenistan, in collaboration with the Permanent missions of Afghanistan, Pakistan and India, organized a presentation on the theme: "Turkmenistan-Afghanistan-Pakistan-India Gas Pipeline: New Energy Great Silk Road for Access to reliable, sustainable and modern energy for all ".
A photo exhibition for the TAPI project was organized for the participants of the event.
The Turkmen delegation headed by the Deputy Minister of Foreign Affairs of Turkmenistan S. Berdimuhamedov, the Permanent Representatives of Turkmenistan, India, Afghanistan, the Deputy Permanent Representative of Pakistan, the UNDP Resident Coordinator in Turkmenistan E. Panova, the Chairman of the Board, the General Director of "TAPI Pipeline Company Limited" M.Amanov, representatives of the EU, UNDP, delegations of member states to the UN participated in the presentation.
Ambassador A.Ataeva noted that Turkmenistan views this pipeline as a new energy Silk Road that will connect the regions of Central Asia and South Asia. The implementation of the TAPI gas pipeline project can bring various privileges to the participating countries. The first and greatest benefit is positive economic benefits.
M.Amanov, in his speech gave detailed information on the importance of this project for the development of economic, social and environmental spheres of the states. The introduction of TAPI will allow solving energy supply issues, create thousands of new jobs, and solve the issue of energy security in the region.
Representatives of Afghanistan, Pakistan and India noted that the project is of particular importance for the economic development of their countries, the employment of the population, the development of infrastructure and, ultimately, the multilateral security of Central and South Asia.
Participants welcomed Turkmenistan's effective steps to promote TAPI as the new energy Great Silk Road of today to provide access to affordable, reliable, sustainable and modern energy for all.
At the end of the presentation, a video prepared by TAPI Pipeline Company Limited was demonstrated.