The new Ambassador of Finland took up his duties in Turkmenistan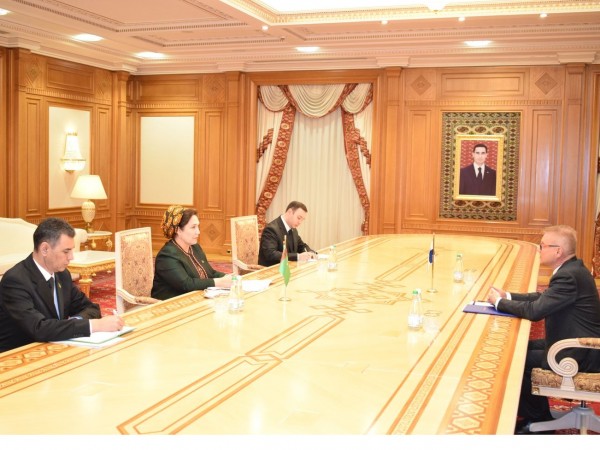 On December 8, 2022, the ceremony of presenting the credentials of the Ambassador Extraordinary and Plenipotentiary of the Republic of Finland to Turkmenistan (with residence in Helsinki) Ilkka Räisänen to the Chairman of the Mejlis Milli Gengesh of Turkmenistan G. Mammedov was held.
During the meeting, the Finnish diplomat was acquainted with the directions of the country's foreign and domestic policy, various reforms and major projects of international importance. Information was also provided on the structure and multilateral activities of the Mejlis Milli Gengesh of Turkmenistan. In this regard, mutual interest was expressed in resuming inter-parliamentary relations, including through the Turkmen-Finnish inter-parliamentary friendship group.
In the morning of this day, the Ambassador of Finland Ilkka Räisänen presented copies of his credentials to the Deputy Minister of Foreign Affairs of Turkmenistan V.Hajiyev at the Foreign Ministry of Turkmenistan.
During the meeting, the Finnish diplomat was informed about the concept of active and positive Neutrality, the initiatives of the President of Turkmenistan in the name of peace and development.
In the context of discussing cooperation between Turkmenistan and the European Union, the expediency of intensifying cooperation through the European Parliament was noted.
At the same time, the parties stressed the importance of strengthening inter-parliamentary ties between the countries, including by means of frequent contacts between the inter-parliamentary Turkmen-Finnish friendship group and the «Finland-Central Asia» inter-parliamentary friendship group.
While discussing political and diplomatic cooperation, the Turkmen side proposed the establishment of contacts between the foreign policy research centers of the two countries.
In the trade and economic sphere, partnership opportunities were noted in the field of communications, mobile and electronic equipment, and the electronics industry.
Attention was also paid to interaction in the field of healthcare and the medical industry.