The 28th session of the Energy Charter Conference opened in Ashgabat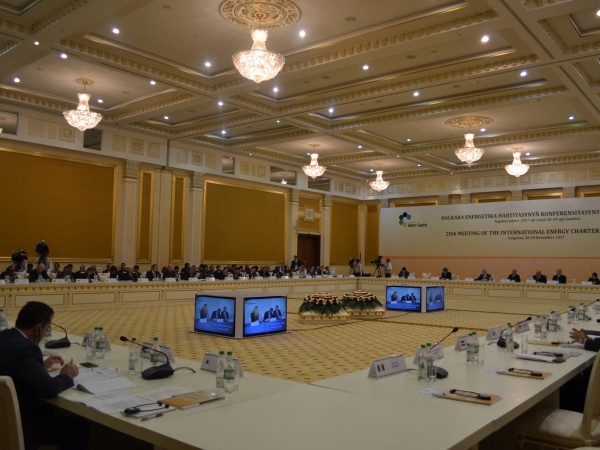 On November 28, 2017 in the building of the hotel "Oguzkent" in Ashgabat, the 28th session of the International Energy Charter Conference began its work. The conference is held within the framework of Turkmenistan's chairmanship in this organization.
Leaders and representatives of relevant ministries and departments from 49 participating states and observer countries, 12 international and regional organizations, representatives of 14 major energy companies, as well as the media participate in the work of the Energy Charter Conference.
M.Babayev, Chairman of the Energy Charter Conference, made a welcoming speech at the opening of the conference. He stressed in his speech that the election of Turkmenistan as the Chairman of this authoritative organization is the proof of the successful implementation of the international initiatives of the President of Turkmenistan in the field of energy security, in particular, concerning the reliable transit of energy resources.
It was reported that during the period of Turkmenistan's chairmanship, seven states joined the International Energy Charter. Speaking representatives of the newly joined countries - the Gambia, Nigeria and the United Arab Emirates - called the Energy Charter a unique platform for cooperation and stressed the significant role of this organization in providing a more sustainable energy future.
After the official opening ceremony, the Energy Charter Award was presented. For an exceptional contribution to the development of the Energy Charter, the Award was presented to the Ambassador of Japan to the European Union Kazuo Kodamo.
Then the Statutory part of the Conference took place, during which the Secretary General of the Energy Charter, Urban Rusnak, delivered a report. The Secretary General noted that Turkmenistan, possessing one of the world's largest energy potentials, is striving to create a sustainable architecture of global energy security built on the principles of balancing the interests of both producing countries, transit countries and consumers.
During the Statutory session, the budget issues and the Program of Work for the coming year were discussed, the candidatures of the countries for the chairmanship in 2018-2020, the report on the "Energy Investment Risk Assessment", the reports of the subsidiary groups of the Energy Charter and the Industry Advisory Panel were considered.
The following documents were signed during the forum: a Memorandum of Understanding between the Ministry of Foreign Affairs of Turkmenistan and the Energy Charter Secretariat on Enhanced Cooperation; a Protocol of Exchange of Instruments of Ratification of the Agreement between Turkmenistan and the Federative Republic of Germany on the Avoidance of Double Taxation with respect to Taxes on Income and Property.
On November 29, the Energy Charter Conference will continue its work. Following the results of the 28th session of the Conference, it is envisaged to adopt the Final Document.