Meeting between the delegations of the Ministeries of Foreign Affairs of Turkmenistan and Georgia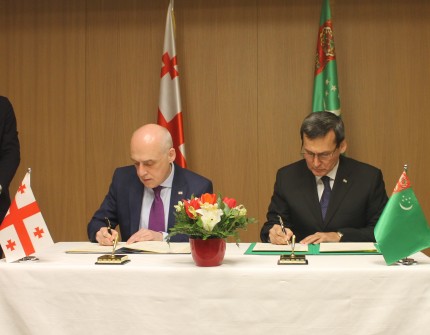 On March 3, 2019, a meeting of delegations of the Ministries of Foreign Affairs of Turkmenistan and Georgia headed by the Ministers of Foreign Affairs agencies of the two countries was held in Bucharest.
During the meeting, the sides exchanged views on the further development of bilateral cooperation.
The foreign ministers stressed the high level of political and diplomatic cooperation between Turkmenistan and Georgia, noting that the main factor in strengthening friendship and cooperation between the two countries is the systematic political dialogue established at the highest state level.
Regular mutual visits of the Presidents of Turkmenistan and Georgia developed impulses to further build up the Turkmen-Georgian partnership in the widest range of areas.
There was also a thorough exchange of views on topical regional and international issuse of common interest.
The sides paid special attention to the consideration of various aspects of bilateral partnership in the trade and economic sphere. At the same time, an increase in bilateral trade was noted. Also, the parties agreed that Turkmenistan and Georgia have great potential for expanding export-import operations.
In this regard, an agreement was reached on holding a regular meeting of the Intergovernmental Turkmen-Georgian Commission for Economic Cooperation in the near future.
By the results of the talks, the Program of Cooperation between the Ministries of Foreign Affairs of Turkmenistan and Georgia for 2019-2020 was signed, which provide holding political consultations on a systematic and regular basis.