Political consultations between the Ministries of Foreign Affairs of Turkmenistan and Turkey were held in Ankara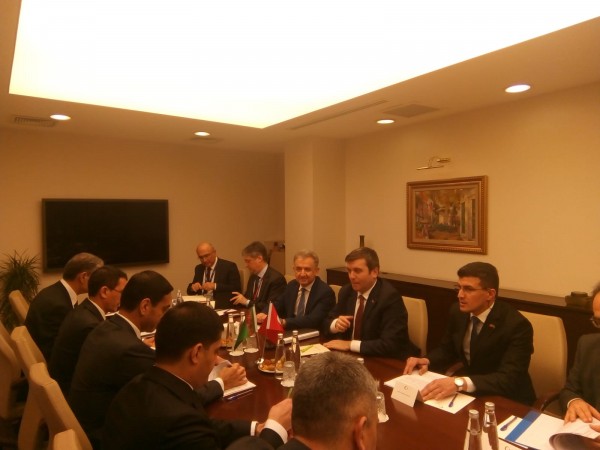 On the 13th of March 2019, political consultations between the Ministries of Foreign Affairs of Turkmenistan and Turkey were held in Ankara. The delegation headed by the Deputy Minister of Foreign Affairs of Turkmenistan came to Ankara to participate in this event.
The delegation of Turkey was headed by the Chief of Directorate of bilateral political relations of the Ministry of Foreign Affairs of Turkey Ambassador Yonet Can Tezel.
In accordance with the agenda, the issues related to bilateral political, trade-economic and cultural-humanitarian relations existing between the two countries, as well as the topics concerning regional and international aspects were primarily discussed. The parties appraised the current status of mutually beneficial bilateral cooperation in these areas and looked at the future opportunities.
In this regard, stressing the high level of political-diplomatic cooperation, the parties discussed the opportunities of widening mutually agreed cooperation in this sphere in the future. In this framework, the importance and significant role of high level visits were especially stated.
In addition, the importance of developing trade-economic relations was noted. The parties exchanged views on activating cooperation in this sphere and the possibility of holding the next meeting of Turkmen-Turkish Intergovernmental Committee on economic cooperation.
During the consultations, the regional and international issues presenting mutual interest were also considered. Raising these issues, the parties have particularly stated their views on strengthening joint resistance of global threats and challenges.
In the second half of the day, the Turkmen delegation met with the Deputy Minister of Foreign Affairs of the Republic of Turkey Mr. Yavuz Selim Kiran. The parties analyzed the state of mutually beneficial cooperation between the two countries in different spheres. The Turkmen side has stressed its readiness to further strengthen and widen these relations based on the principles of equality. The Turkish side has also noted that it attaches great importance to further development of friendly and brotherly relations in all the areas.
In the framework of the visit, the issues concerning mutual trips of the citizens of Turkmenistan and the Republic of Turkey were discussed in detail.