Consecutive session of "Turkmenistan-EU" Dialogue on Human Rights was held in Ashgabat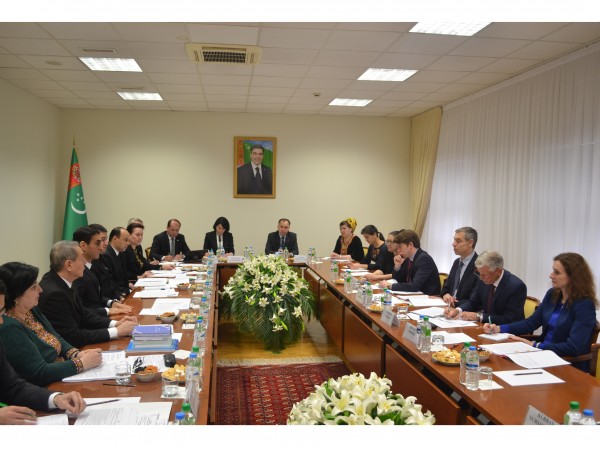 On the 29th of March 2019, the successive 11th session of the Dialogue on Human Rights between Turkmenistan and European Union was held in Ashgabat.
The delegation of EU was headed by B.Iarochevitch, Head of Central Asian Division of European External Action Service. From the Turkmen side, the Authorized Representative for human rights – Ombudsmen of Turkmenistan, representatives of the Parliament (Mejlis), Supreme Court, as well as the representatives of the Ministry of Foreign Affairs, Ministry of Justice (Adalat), Ministry of Internal Affairs, Ministry of Labor and Social Protection of Population of Turkmenistan, State Migration Service, Institute of State, Law and Democracy, as well as the Department on Religious Affairs of the Cabinet of Ministers of Turkmenistan participated to the work of the session.
During the meeting, the issues of cooperation in the area of obeying the fundamental norms and conventions on human rights, including the implementation of the action plans in humanitarian sphere were discussed. The representatives of the European Union noted with satisfaction the cooperation of Turkmenistan with the EU, UN agencies and OSCE, as well as highly appraised the progress attained in the area of human rights and the readiness of Turkmen side to diversify this sphere of partnership with the EU.
In addition, the parties exchanged views on such issues as the development of civil society, matters of penitentiary institutions and sustenance conditions of the detention, protection of the rights of women and children, obedience of the economic and social rights of people. Also, the subjects of law supremacy and the reforms in judicial system, including the monitoring of activities realized by the state institutions on the protection of human right were discussed.
Besides, the delegation of EU noted during the negotiations that it welcomes the efforts of Turkmenistan on the implementation of the National Action Plan in the spheres mentioned. Also, the work of national law enforcement agencies and institutions of the country were discussed in this context.
In the result of the meeting, the parties agreed to hold the next 12th session of "Turkmenistan-EU" Dialogue on Human Rights in Brussels in 2020.