WHO European High-Level Conference on Non-Communicable Diseases has successfully completed in Ashgabat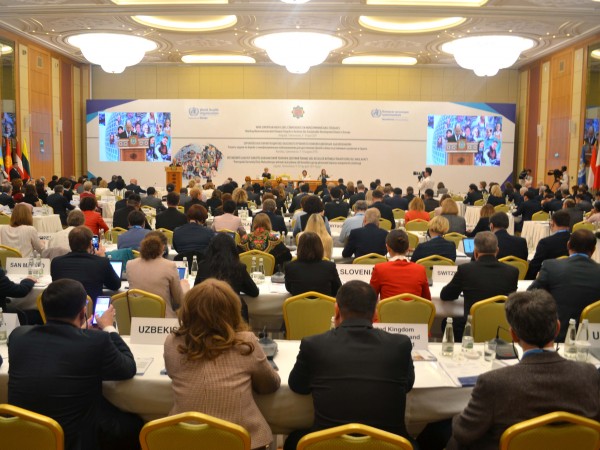 On the 10th of April 2019, the WHO European High-Level Conference on Non-Communicable Diseases "Meeting non-communicable disease targets to achieve the Sustainable Development Goals in Europe" has successfully ended in Ashgabat.
During the second day of the session, the participants spoke about the significance of strategic partnership between the countries and international organizations, particularly with the UN agencies and non-governmental entities. In this context the necessity of providing equal access to innovation technologies, appropriate data on the national and interregional level was mentioned.
The issues related to the consequences of tobacco smoking and alcohol use in the process of preventing and controlling the non-communicable diseases were discussed. Particularly, the WHO Framework Convention on Tobacco Control and further development of plans in the framework of the Sustainable Development Goals were discussed. Here, the effective input of Turkmenistan in the development of relevant programmes was noted.
The matters related to child obesity, malnutrition and oncological diseases were distinctly considered. During the speeches, the need to strengthen the cooperation on the preparation of preventive measures, gathering of statistical information and adjustment of rapid response systems in terms of NCDs was stressed.
Special significance was attached to the matters of equal access and cost acceptability of the medicines and medical devices used to prevent and treat the non-communicable diseases. The participants mutually agreed that these issues must be taken into consideration during the development of national healthcare programmes and systems of any country.
Summarizing the results of the Conference, the key officials of the European Regional Office of the World Health Organization expressed gratitude to the Turkmen side for assistance in hosting such significant event, which contributes to the mobilization of efforts on assisting the prevention and control of the NCDs, thus contributing to the overall task on protecting the rights of all people to have the best state of health. The Address on the outcomes of WHO European High-Level Conference on the Prevention and Control of Non-Communicable Diseases devoted to the President of Turkmenistan Gurbanguly Berdimuhamedov was recited.