Meeting of the Minister of Foreign Affairs of Turkmenistan with OSCE Secretary General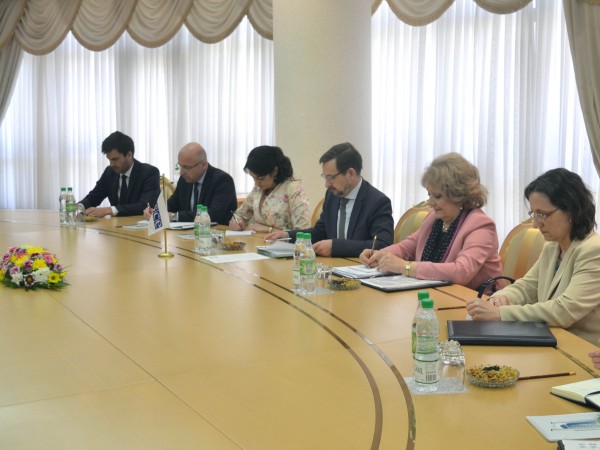 During the visit of the OSCE Secretary General Thomas Greminger to Turkmenistan, he was received by the Minister of Foreign Affairs of Turkmenistan R.Meredov.
Expressing his gratitude for the congratulatory words on the occasion of 20th Anniversary of OSCE Centre in Ashgabat, Mr.Greminger highlighted the valuable contribution of Turkmenistan and noted the effective external policy of President of Turkmenistan Gurbanguly Berdimuhamedov aimed at multilateral development, as well as the promotion of peace and progress on regional and global level.
During the negotiations, it was noted that a vast working experience has accumulated between Turkmenistan and the OSCE. During the current year, 40 projects are being realized in the defense-political, economic and ecological, as well as the humanitarian dimensions.
The improvement of social and economic living conditions of all the people lays in the focus of joint activities. Particularly, joint projects are being implemented aimed at providing security in the Central Asian region, including economic and ecological aspects, international practice of government management, as well as the assistance to transport carriers and development of renewable sources of energy and nature protection.
The guest noted the key initiatives of Turkmenistan in the area of human rights protection, securing gender equality and improvement of the work of the mass media functioning in the country, all of which corresponds to the main priorities of the OSCE.
The parties stressed the importance of events carried out these days in the capital of Turkmenistan that are dedicated to the 20th Anniversary of the OSCE Centre in Ashgabat and reiterated the adherence to continue further fruitful cooperation.