Meeting with the delegation of the UK at the Ministry of Foreign Affairs of Turkmenistan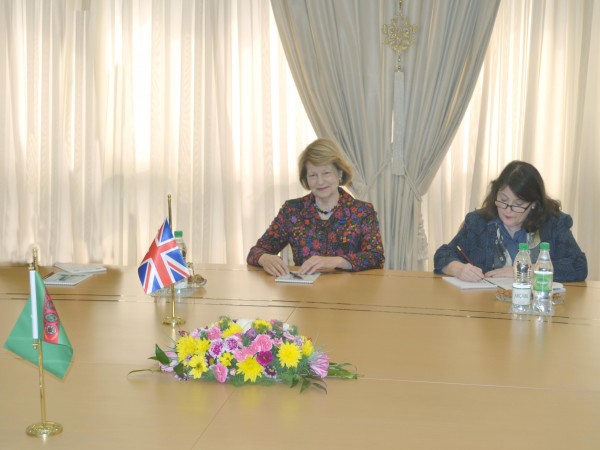 On April 24, 2019, a meeting was held at the MFA of Turkmenistan with the delegation of the UK headed by the member of the House of Lords of the British Parliament Baroness Emma Nicholson, who has arrived to Turkmenistan to attend the seventh meeting of the Turkmenistan-UK Trade and Industry Council (TUKTIC).
During the meeting, noting the importance of regular contacts between the Foreign Ministries of the two countries, the parties suggested holding the next political consultations in the second half of 2019 or in 2020 in Ashgabat.
Also, discussing the upcoming seventh meeting of the Turkmen-British Trade and Industry Council, during which it is planned to consider specific issues to increase trade, the parties separately noted the high level of cooperation between Turkmenistan and the United Kingdom in trade and economic sphere. It was proposed to hold an Investment forum of Turkmenistan in the UK.
During the meeting, the parties exchanged views on cooperation in cultural and humanitarian field. In order to further popularize the historical heritage of Turkmenistan, it was proposed to hold archaeological exhibitions of Turkmenistan in major cities of the UK.
At the end of the negotiations, the parties discussed the cooperation of two countries in the field of environmental protection.