Conference dedicated to the First Caspian Economic Forum held in Yerevan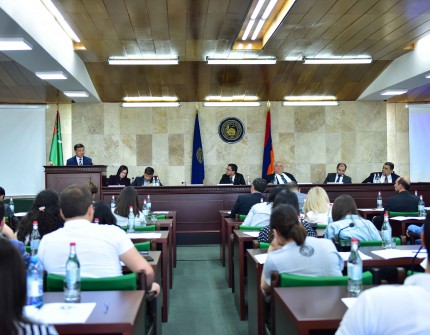 On May 13, 2019, Embassy of Turkmenistan jointly with the Yerevan State University organized and held the conference titled "Caspian Sea - Sea of ​​Opportunities" at the Yerevan State University. This initiative was dedicated to the First Caspian Economic Forum, which will be held on 12th of August 2019 in "Avaza" National Tourist Zone.
The conference has gathered heads and diplomats of diplomatic missions and international organizations, accredited in Armenia, heads of the Ministry of Transport, Communications and Information Technologies of the Republic of Armenia, representatives of the Ministries of Foreign Affairs, Economic Development and Investments, Finance of Armenia, Chamber of Commerce and Industry of Armenia, professors and students of Yerevan State University, Turkmen students, as well as scientific representatives and media of Armenia.