Meetings of the delegation of Turkmenistan in Paris with the leaders of a number of international organizations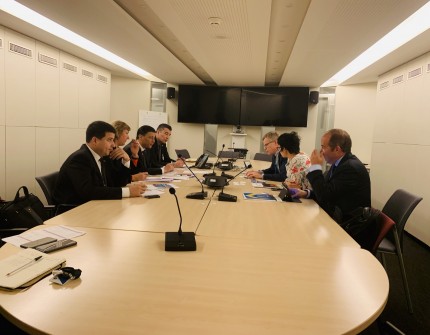 From May 20 to 21, the delegation of Turkmenistan headed by the Minister of Finance and Economy was on a working visit to Paris at the invitation of the leadership of the Organization for Economic Cooperation and Development (OECD).
During the visit, the Turkmen delegation was received by OECD Director General Angel Guria, and a number of bilateral meetings were organized with other leaders of the organization.
During the meetings, the parties discussed the possibilities of establishing closer cooperation between our country and the OECD, and also considered the prospects for cooperation in such areas as training, digital economy, stimulating investment and private entrepreneurship, export promotion, energy, renewable energy and environmental issues.
Also for the Turkmen delegation was presented the experience of other countries in the digitalization and optimization of public procurement and services.
In addition, during the visit, the Turkmen delegation was received by the Executive Secretary of the International Energy Agency Fatih Birol and the Executive Secretary of the FATF (Financial Action Task Force on Money Laundering) David Lewis.