Ambassador of the Great Britain completes her diplomatic mission in Turkmenistan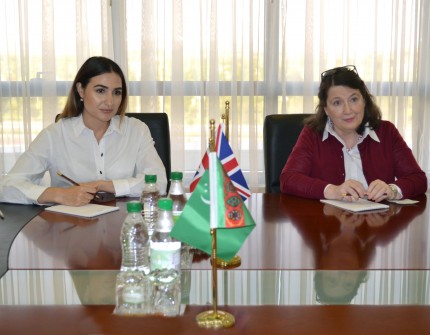 On August 19, 2019, a meeting was held in the Ministry of Foreign Affairs of Turkmenistan with the Ambassador Extraordinary and Plenipotentiary of the United Kingdom of Great Britain and Northern Ireland in Turkmenistan Ms. Thorhilda Mary Vivia Abbott-Watt whose diplomatic mission in the country has completed.
In the beginning of the meeting, the Minister of Foreign Affairs of Turkmenistan R.Meredov expressed the words of gratitude to Ms.Ambassador on behalf of the President of Turkmenistan Gurbanguly Berdimuhamedov for her personal contribution in the development of bilateral ties based on the principles of equality, respect and openness.
During the meeting, the parties noted with satisfaction the friendly nature of Turkmen-British relations. Ms. Abbott-Watt expressed gratitude to the Turkmen side for multifaceted support in the process of widening mutually beneficial cooperation between Turkmenistan and the Great Britain.
Expressing interest in further strengthening of Turkmen-British relations, the diplomats discussed a number of current issues including the opportunities for further development of political-diplomatic, trade-economic and cultural-humanitarian collaboration between the two countries.