Visit of Turkmen parliamentarians to China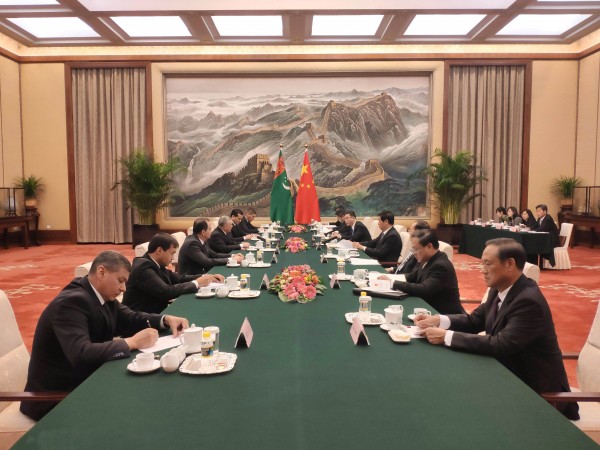 On October 16, 2019, during a working visit to the PRC, the delegation of Turkmenistan, headed by the Deputy Chairman of the Mejlis of Turkmenistan K. Babayev, had a meeting with the member of the Politburo Standing Committee of the Central Committee of the CPC, Chairman of the Standing Committee of the National People's Congress of the People's Republic of China Li Zhanshu.
The head of the Chinese parliament warmly greeted the Turkmen delegation and expressed his wish for further deepening and development of inter-parliamentary relations between Turkmenistan and China.
The parties underlined that the leadership of the two states emphasize the development of friendship and partnership. China and Turkmenistan are close and friendly states and reliable strategic partners.
In the framework of the meeting, the parties also considered the issues of expanding intergovernmental, inter-parliamentary and inter-party cooperation between the two states. During the talks, the heads of delegations focused on expanding trade-economic and energy cooperation, building industrial facilities, developing cooperation in the areas of communication, transport and logistics and other sectors of the economy, and deepening partnership between the legislative bodies of the two countries.
Also, during the visit, the delegation of Turkmenistan visited and got acquainted with the work and institutions of the National People's Congress of the People's Republic of China.
The visit of parliamentarians of Turkmenistan to China continues.