New phases of cooperation between Turkmenistan and UNESCO were discussed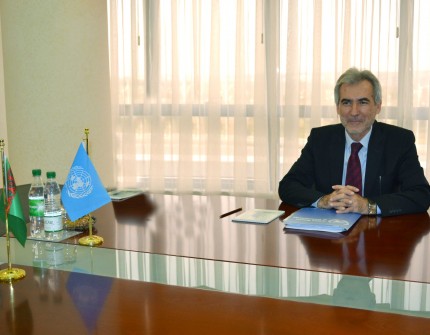 On January 13, 2020, the Deputy Chairman of the Cabinet of Ministers, Minister of Foreign Affairs of Turkmenistan R.Meredov met with the Officer-in-Charge of UNESCO Tehran Cluster Office Cvetan Cvetkovski.
During the meeting, the parties stated the high level of cooperation between Turkmenistan and the United Nations' Educational, Scientific and Cultural Organization (UNESCO). In this regard, the adherence of Turkmenistan to protection of the national and worldwide values, promotion of the dialogue between the countries and people based on cultural-humanitarian collaboration was underlined. Considering the outcomes of cooperation for the previous year, including the inclusion of the Turkmen traditional art of carpet making to the Representative List of Intangible Cultural Heritage of Humanity, the parties discussed new proposals and programmes for current year.
Speaking about the uniqueness of Turkmen culture and history, the guest also underlined the exclusiveness of the permanent status of Neutrality of Turkmenistan, the 25th anniversary of which is celebrated by the country in the current year and aimed at the sustaining of peace, mutual understanding and stability through the search of positive methods of collaboration.
The parties expressed hope for further strengthening of cooperation between Turkmenistan and UNESCO.