Turkmenistan adheres to cooperation with the Food and Agriculture Organization of the United Nations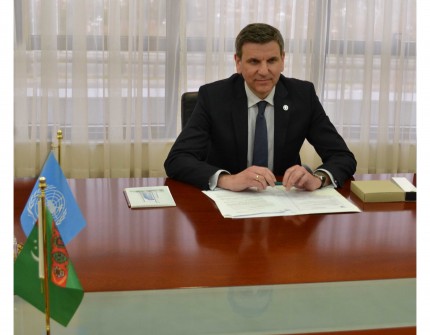 On January 13, 2020, the Deputy Chairman of the Cabinet of Ministers, Minister of Foreign Affairs of Turkmenistan R.Meredov met with the FAO Sub-regional Coordinator for Central Asia Viorel Gutu who has arrived to Turkmenistan to participate to the International Conference "Turkmenistan and international organizations: cooperation for peace and development" to be held in Ashgabat on January 14, 2020.
The parties thoroughly discussed the priority vectors of cooperation with the FAO, current projects and programmes in the field of assisting the agricultural development and resolution of the problems related to the food safety in the global context. The active role of Turkmenistan in the international processes aimed at the protection of ecology and rational use of natural resources was underlined.
During the talks, the proposals were discussed on the development of joint projects and programmes, the successful implementation of which is expected to have a positive effect on the neighboring countries in view of the pleasant geographical location of Turkmenistan.