Continuation of the International Conference dedicated to the Neutrality of Turkmenistan held in the MFA of Turkmenistan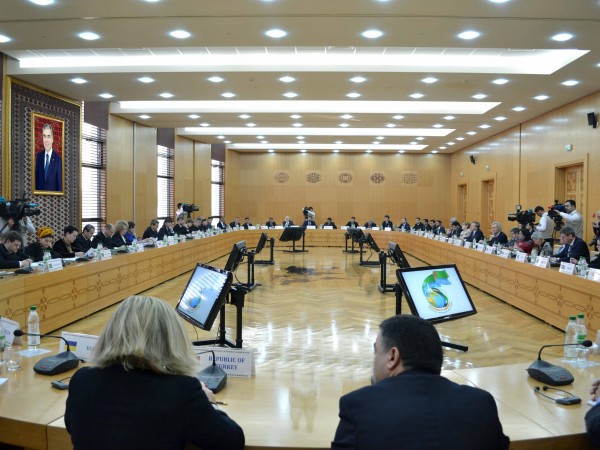 On January 14, 2020, the International Conference "Turkmenistan and International Organizations: Cooperation for Peace and Development" continued its work at the Ministry of Foreign Affairs of Turkmenistan in plenary sessions.
The sessions were attended by heads and representatives of the ministries and agencies of Turkmenistan, as well as the representatives of international organizations, heads of the diplomatic missions accredited in Ashgabat, journalists of local and foreign media.
At the beginning of the session, the Minister of Foreign Affairs of Turkmenistan R. Meredov addressed the participants with an introductory speech in which he noted the importance of cooperation with international organizations in the context of implementing the policy of positive Neutrality of Turkmenistan aimed at maintaining peace, stability and economic progress in the whole world.
The Regional Representative of the Office of the UN High Commissioner for Human Rights in Central Asia Ryszard Komenda, Ombudsperson of Turkmenistan Ya.Gurbannazarova and the IOM Regional Coordinator for Central Asia Zeinal Hajiyev gave speeches during the first session of the plenary meeting named "Cooperation in humanitarian sphere taking into consideration rights and interests of a human being."
During the second session named "Cooperation aimed at stable economic and ecological development," the FAO Sub-regional Coordinator for Central Asia Viorel Gutu, UNDP Resident Representative a.d. in Turkmenistan Natia Natsvlishvili, Representative of the Ministry of Finance and Economy of Turkmenistan, Country Director of ADB Resident Mission in Turkmenistan Chang-Ching Yu, Regional coordinator of the UNCTAD for Central Asia Dmitry Godunov, Head of EBRD Resident Office in Turkmenistan Fatih Turkmenoglu and the Chief of UNIDO Regional Division for Europe and Central Asia Jacek Cukrowski gave speeches.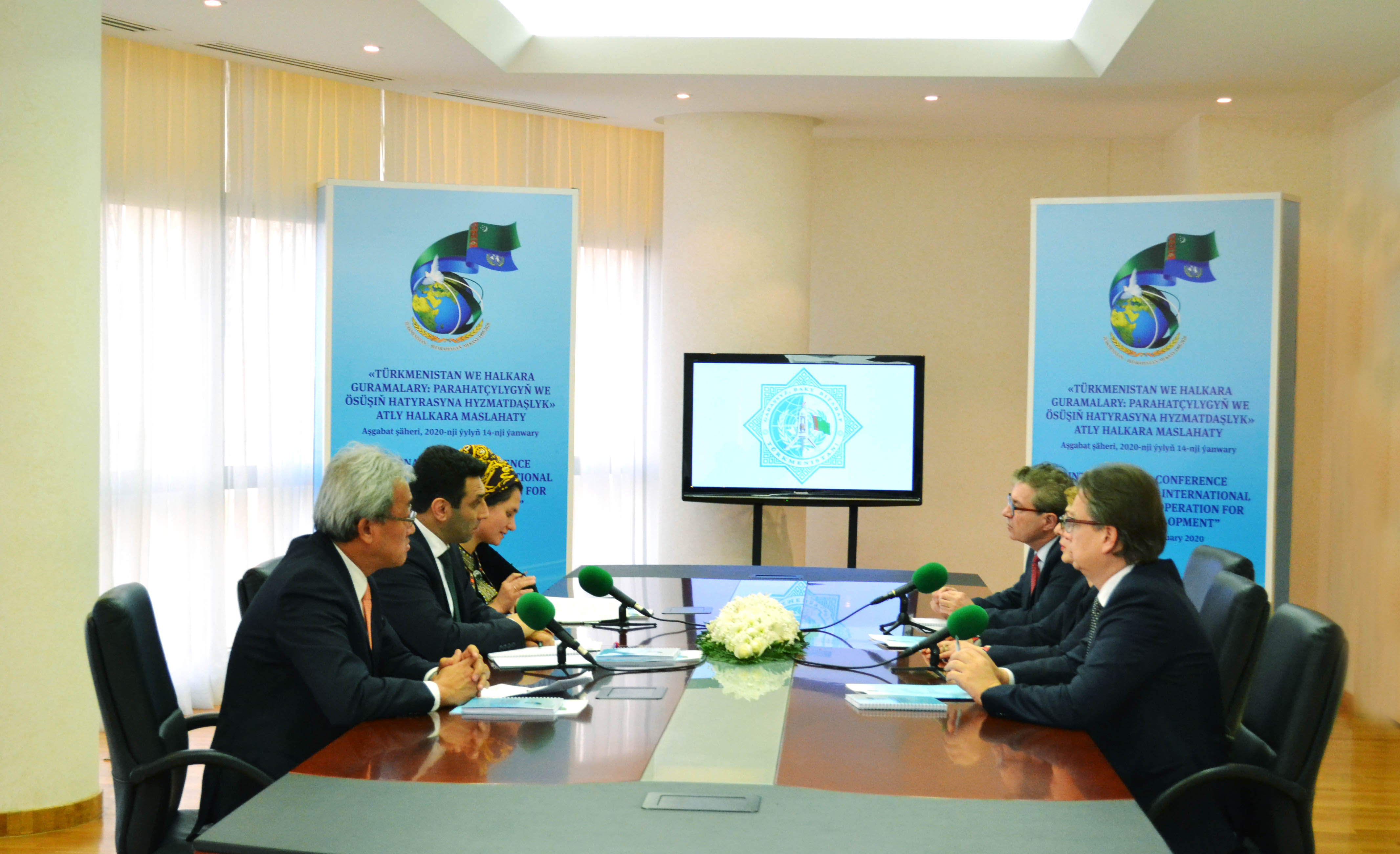 Head of WHO Country Office in Turkmenistan Paulina Karwowska, Minister of Healthcare and Medical Industry, Regional Director for Central Asia of the World Bank Lilia Burunciuc, UNFPA Country Director for Turkmenistan Giullia Vallese and Head of UNICEF Office in Turkmenistan Christine Weigand gave speeches at the third session named "Cooperation in the social sphere aimed at all-encompassing healthcare, education and social protection."
During the speeches, the important role of Turkmenistan in the implementation of international actions in achieving the Sustainable Development Goals and the importance of Turkmenistan's permanent neutrality policy based on the humane values ​​of peace and good neighborhood were noted.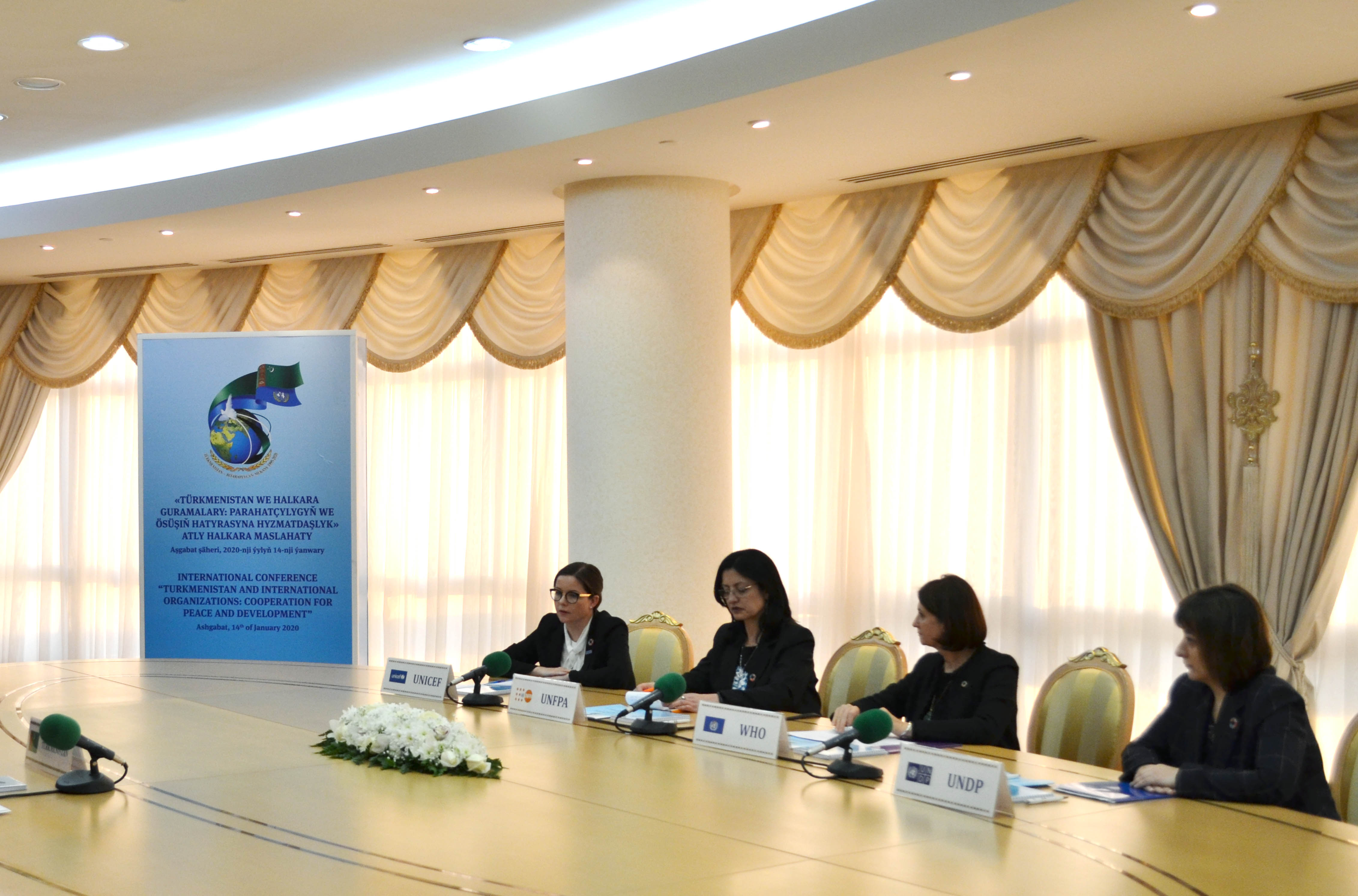 Following the international conference "Turkmenistan and International Organizations: Cooperation for Peace and Development," two round-table meetings were organized in the Ministry of Foreign Affairs of Turkmenistan. During these meetings, the participants discussed the key aspects of cooperation between Turkmenistan and leading international organizations, as well as made their suggestions for further strengthening of cooperation on a wide range.