Turkmen-Afghan cooperation issues discussed in Kabul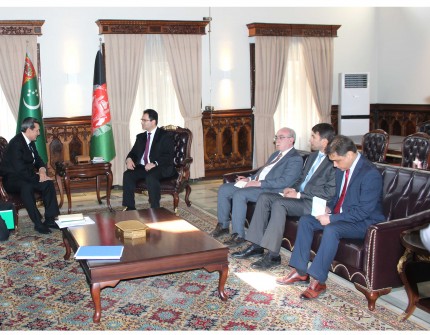 On February 1-2 of the current year, the visit of the delegation of the MFA of Turkmenistan headed by the Minister of Foreign Affairs R.Meredov to the Islamic Republic of Afghanistan took place.
On the first of February, the Turkmen delegation was received by the President of Afghanistan Mohammad Ashraf Ghani.
A wide range of issues pertaining to further intensification of political-diplomatic collaboration, expansion of the economic cooperation, development of cultural-humanitarian ties between the two countries was discussed during the meeting.
In this connection, the role and significance of the initiatives of the President of Turkmenistan Gurbanguly Berdimuhamedov aimed at further strengthening of traditional friendship and all-encompassing partnership between Turkmenistan and Afghanistan has been specifically underlined.
The parties paid special attention to the implementation of large-scale and long-term infrastructural projects currently realized by both countries. The most notable among those are the construction of the "Turkmenistan-Afghanistan-Pakistan-India" (TAPI) pipeline, power lines and fiber-optic communication systems on "Turkmenistan-Afghanistan-Pakistan" (TAP) route, the railways from Turkmenistan to Afghanistan.
Besides, the delegation of Turkmenistan informed the Afghan side about the readiness of Turkmenistan to continue further on a systematic basis the provision of humanitarian aid to the neighboring country.
The Turkmen delegation also met with the Chief Executive of Afghanistan Dr.Abdullah Abdullah, National Security Advisor of the President, Minister of Foreign Affairs and a number of executives of the state entities of Afghanistan.
In the framework of the visit, the talks of the delegation of the MFA of Turkmenistan with the Head of UNAMA Tadamichi Yamamoto were held in the Kabul headquarters of the UN Assistant Mission in Afghanistan.
During the short visit to New Delhi on February 2, the working meeting of the Head of the external policy agency of Turkmenistan with the Minister of External Affairs of India Dr.Subrahmanyam Jaishankar was held, during which the parties exchanged views on the current state and perspectives of development of Turkmen-Indian relations, and discussed the regional and international topics of mutual interest.