Minister of Foreign Affairs of Turkmenistan received the appointed Ambassador of Japan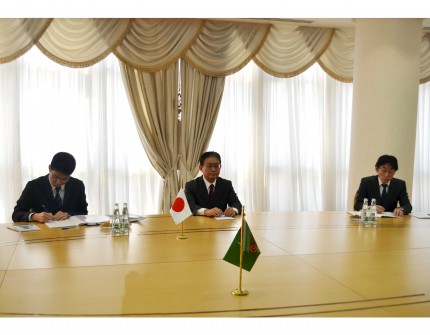 On the 16th of November 2020, the Deputy Chairman of the Cabinet of Ministers, Minister of Foreign Affairs of Turkmenistan Rashid Meredov met with the newly appointed Ambassador of Japan to Turkmenistan Yamamoto Hiroyuki.
In the beginning of the meeting, the newly appointed Ambassador of Japan to Turkmenistan Yamamoto Hiroyuki presented the copies of credentials to the head of the external policy agency.
During the constructive talks, the diplomats noted the efficient nature of Turkmen-Japanese collaboration on the interstate and interdepartmental levels. The commitment of the leadership of Turkmenistan to the advancement of fruitful dialogue with Japan in all fields posing mutual interest was stressed.
The parties discussed the issues of collaboration in political-diplomatic, trade-economic and cultural-humanitarian areas. The efficiency of partnership between Turkmenistan and Japan within regional and international structures, primarily the UN was noted.
The partnership of the two countries through the Ministries of Foreign Affairs, including the holding of political consultations on a systematic basis was emphasized.
The "Central Asia + Japan" Dialogue was highlighted as an effective tool for developing and strengthening the bilateral and multilateral partnership, in the framework of which the implementation of concrete projects is considered.
The fruitfulness of the work of joint committees of economic cooperation was underlined which promotes the advancement of mutually beneficial projects and programmes. The diplomats noted the effectiveness of multiyear work of Japanese companies in Turkmenistan, in particular in oil and gas, as well as the chemical industries.
The diplomats underlined the necessity of further intensification of mutual relations in the area of education, science and culture. With the aim of full scale implementation of previously attained agreements, the diplomats noted the importance of cooperation among the profile entities of two states.
In the end, the newly appointed Ambassador thanked the Turkmen side for kind wishes addressed to him.
The parties agreed to continue active cooperation on a wide spectrum.