Turkmenistan intends to develop cooperation with the International Organization for Migration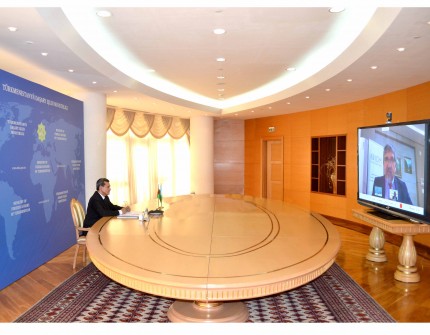 Today, on the 2nd of March 2021, the Minister of Foreign Affairs of Turkmenistan Rashid Meredov had an online meeting with the IOM Regional Coordinator for Migration for Central Asia, Head of IOM Missions in Kazakhstan, Kyrgyzstan, Turkmenistan and Uzbekistan Zeynal Hajiyev.
The parties appraised the current level of cooperation between Turkmenistan and the International Organization for Migration. The results of joint work done in 2020 were discussed, as well as the priority fields of cooperation for future period determined. It was stated that Turkmenistan is ready to develop collaboration with the IOM, including the area of systematized and safe labour migration.
The plan of joint events for the current year was discussed thoroughly, which encompasses such areas as "Countering human trafficking and assistance to migrants" and "Technical cooperation and border management". The Turkmen side reiterated the commitment to develop joint projects with the use of digital technologies and paperless work, both on the national and regional levels.
The parties also discussed the collaboration with the emphasis made on urgency situations, and touched upon the Sendai Framework for Disaster Risk Reduction. In this regard, the actions of Turkmenistan on the national level were expressed. Also the activities of the state on fulfilling the obligations arising from the Global Compact on Migration were highlighted.