Turkmenistan proposes to strengthen cooperation with OSCE on energy security and sustainable transport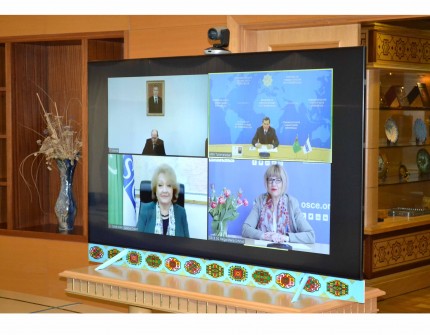 During the online meeting of the Minister of Foreign Affairs of Turkmenistan Rashid Meredov with the OSCE Secretary General Helga Schmid, the issues of energy security and sustainable transport were discussed.
The parties underlined the importance of stable access to energy resources from the standpoint of regional and global development. The Turkmen side has noted that being one of the largest producers and suppliers of energy resources in the world, Turkmenistan actively continues to work on the establishment of flexible mechanisms for the supply of such resources to the world markets. In this regard, the country has already proposed to establish a specialized OSCE structure, the Council on Sustainable Energy.
Also, the issues of widening collaboration in the field of transport and ecological safety were discussed. In this regard, the significance of the OSCE project on Promoting the Development of Green Ports and Interconnectivity in the Caspian Sea Region was emphasized. Turkmenistan aims to support the process of the development of green ports, digitalization and simplification of trade and transport communications in Central Asia and the Caucasus.
It was stated that the expert meetings on studying the possibility of developing the Comprehensive OSCE Environmental Program continue.