Representatives of five littoral states discuss issues of trade-economic cooperation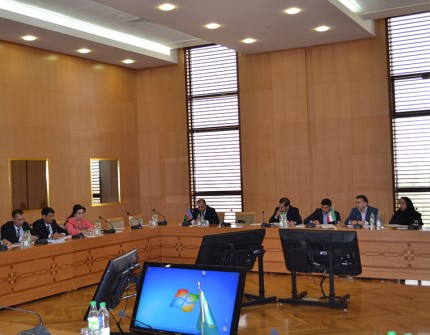 On April 24, 2017 the next regular meeting of authorized representatives of the Caspian states has started in the premises of the Ministry of Foreign Affairs of Turkmenistan. The meeting was organized by the Ministry of Foreign Affairs, Ministry of Economics and Developments and State Enterprise for the Caspian Sea at the President of Turkmenistan.
Representatives of profile ministries and departments of Azerbaijan, Iran, Kazakhstan, Russia and Turkmenistan take part in it. The basic theme of the agenda of the meeting is endorsement of the draught agreement on trade and economic cooperation between the Caspian states. The given document has been developed by the Turkmen side according to the initiatives of President Gurbanguly Berdimuhamedov proposed in the summit of heads of the Caspian states in Astrakhan (Russian Federation) in 2014.
As was marked during the meeting, for the past period a great deal of work on realization of agreements of leaders of countries of the Caspian region has been carried. The process of endorsement of a number of standard-legal documents which are planned for signing in a five-sided format has been advanced. During the meeting the attention will be given to the further advancement of the initiative of the President of Turkmenistan on creation of constantly operating Caspian Economic Forum, called to become an effective platform for the dialogue between the regional countries.