Meeting at the Ministry of Foreign Affairs of Turkmenistan with the delegation of Japan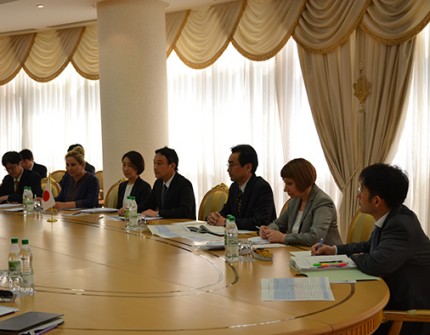 On April 24, 2017, at the Ministry of Foreign Affairs of Turkmenistan there was a meeting with the delegation of Japan, which included representatives of the Japan Bank for International Cooperation, the Ministry of Economy, Trade and Industry, the State Export Credit Agency of Japan, and the Ambassador Extraordinary and Plenipotentiary of Japan to Turkmenistan.
During the meeting, a thorough exchange of views took place on a wide range of issues of economic cooperation. In this context, issues of implementing the tasks arising from the documents signed during the contacts at the highest level in September 2013 and October 2015 were discussed.
The sides touched upon the issues of further development of cooperation in the oil and gas sector, discussed the implementation of joint projects taking into account the use of higher technologies for engineering feasibility of work. Issues related to the upcoming May meeting and the visit of the Minister of Foreign Affairs of Japan, Mr. Fumio Kisida to Turkmenistan, as well as joint events planned to be held in the near future had been discussed.