Afghan delegation headed by the Minister of Hajj and Religious Affairs has arrived to Ashgabat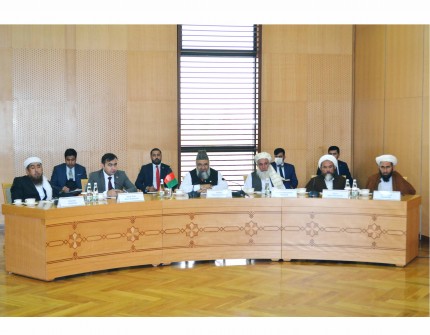 Today, on the 6th of April, a meeting was held in Ashgabat between the Minister of Foreign Affairs of Turkmenistan Rashid Meredov and the Afghan delegation headed by the Minister of Hajj and Religious Affairs of the Islamic Republic of Afghanistan Mohammad Qasim Halimi who has arrived to Turkmenistan on a working visit.
During the talks, the parties confirmed the high level of interstate relations, where the humanitarian cooperation holds a special place.
Minister Mohammad Qasim Halimi underlined the importance of the fraternal support of Turkmenistan to Afghanistan and its people that is reflected in numerous projects of economic and cultural-humanitarian scope.
He also emphasized the humaneness and efficiency of the neutral policy pursued by the President of Turkmenistan Gurbanguly Berdimuhamedov aimed at the promotion of peaceful and friendly relations between countries and people. In this regard, Minister Halimi highlighted the importance of the social facilities built on the territory of Afghanistan in support of the Turkmen side, particularly the mosque in the Faryab province that has become the symbol of friendship between the two countries.
An exchange of views took place on the current state and prospects of the peace process development in Afghanistan. The readiness of the Turkmen side to facilitate the advancement of the process through political and diplomatic methods was again reiterated.
The parties discussed the opportunities of cooperation between the two countries on education, science and culture.