Turkmenistan holds an active position on resisting the climate change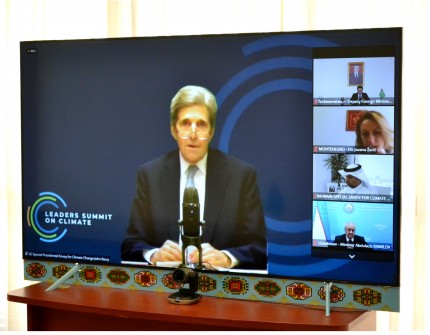 On 21 April 2021, upon the invitation of the U.S. Special Presidential Envoy for Climate Change John Kerry, the Deputy Minister of Foreign Affairs of Turkmenistan Vepa Hajiyev took part in the virtual roundtable on climate change.
The event in participation of authorized representatives from dozens of world countries is taking place in the framework of the preparations to the 26th session of the Conference of the Parties to the United Nations Framework Convention on Climate Change (UNFCCC) planned to take place in Glasgow in November of current year.
The participants of the roundtable discussed a wide range of issues in the area of climate change, including the mobilization of efforts of the state and private sectors, the opportunities for providing assistance to the vulnerable countries in adapting to the climate impacts and the role of embedding the innovations into the given process.
Speaking at the roundtable, the Deputy Minister of Foreign Affairs of Turkmenistan Vepa Hajiyev voiced the cardinal actions of the Turkmen side on overcoming the global climate crisis on the national, regional and international levels.
Turkmenistan stands for the proactive and long-term international partnership and the development of ecological diplomacy. During the roundtable, the national programmes and strategies of Turkmenistan were voiced, which among others provide for the collective preventive measures on combatting the climate change, transition to the use of ecologically clean and resource-saving technologies, as well as the attainment on the national level the zero level and decrease of greenhouse gas emissions until 2030.