International Conference on disarmament issues was held in the framework of the International Year of Peace and Trust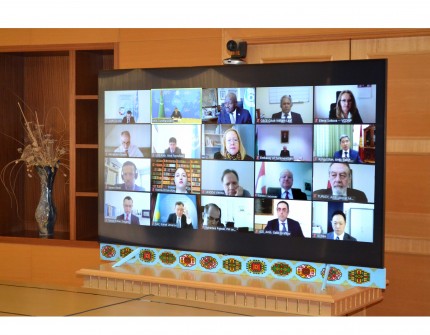 On the 27th of April 2021, the International Conference "Ensuring peace, stability and security: Strengthening international and regional cooperation in the field of disarmament" was organized upon the initiative of Turkmenistan conjointly with the Comprehensive Nuclear-Test-Ban Treaty Organization (CTBTO).
In his opening speech, the Minister of Foreign Affairs of Turkmenistan Rashid Meredov underlined that the Turkmen side considers the intensification of joint multilateral efforts on the provision of non-proliferation and disarmament condition as one of the primary tasks standing in front of the international community. It was stated that the main role in this process is assigned to the United Nations and multilateral disarmament mechanisms of the UN.
It was highlighted that on the regional level, Turkmenistan holds a key position in the process of further advancement of the Treaty on the Establishment of a Nuclear-Weapon-Free Zone in Central Asia and its practical implementation, the roots of which were laid down at the first Consultative Meeting of the states participating to the Treaty which was held in Ashgabat on October 15, 2009.
The Executive Secretary of the Comprehensive Nuclear-Test-Ban Treaty Organization (CTBTO) Lassina Zerbo, the Executive Director of the Vienna Center for Disarmament and Non-Proliferation Elena Sokova, the Director of the Conflict Prevention Centre at the Organization for Security and Cooperation in Europe (OSCE) Tuula Yrjölä, as well as the permanent representatives of the UN Member States at the Vienna Office of the Global Organization, representatives of the OSCE, OPCW and other respected organizations also took part in the conference.
During the conference, a constructive exchange of views was held on the disarmament matters. The necessity of strengthening the global system of arms control, provision of the non-proliferation and disarmament condition was stated.
The participants also paid special attention to the importance of promoting the dialogue and political interaction on the global and regional levels built on trust and mutual understanding.
In this regard, the special role of multilateral efforts initiated by Turkmenistan within the International Year of Peace and Trust was noted.