Turkmenistan intensifies collaboration with the regions of the Russian Federation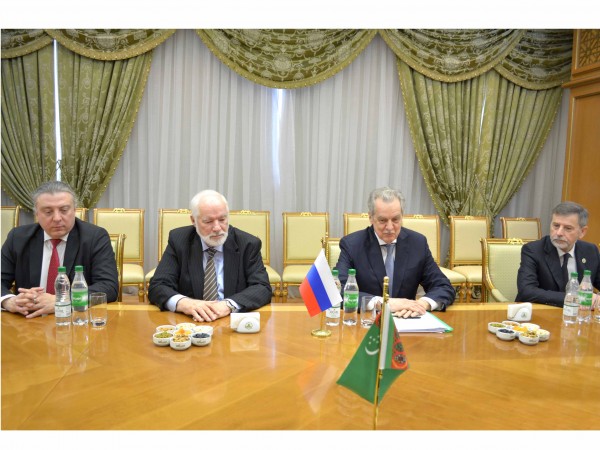 Today, on 23 May, a meeting was held in the Turkmen capital with the Chairman of the Committee for External Relations of Saint Petersburg Ye.Grigoryev and the Head of the "Group of Industrial Association Companies "Vozrozhdenie" I.Bukato who have arrived to Turkmenistan on a visit.
The Deputy Chairman of the Cabinet of Ministers, Minister of Foreign Affairs of Turkmenistan R.Meredov and the Deputy Chairman of the Cabinet of Ministers, Chairman of the Supreme Control Chamber of Turkmenistan S.Berdimuhamedov participated to the meeting.
During the constructive talk, the parties noted the positive dynamics of collaboration of Turkmenistan with the regions of the Russian Federation. In this respect, the efficiency of the partnership of the country with Saint Petersburg was emphasized, with the availability of favorable potential for further development of the contacts.
As known, the Roadmap of Cooperation in Trade-Economic, Scientific-Technical and Cultural-Humanitarian Spheres for 2020-2025 approved in February 2020 defines the vectors of bilateral cooperation.
The leading companies of Saint Petersburg, such as the NP "Vozrozhdenie" and the "United Shipbuilding Corporation" are the long-standing, reliable partners of the Turkmen side.
Besides, the regular meetings of the representatives of state sectors, business communities and art workers widely contribute to the intensification of mutually beneficial ties on all vectors possessing common interest.
Currently, the parties constructively cooperate in the area of construction, road and transport infrastructure, shipbuilding, education, culture and informational technologies.