The priorities of interaction between Turkmenistan and the International Organization for Migration have been discussed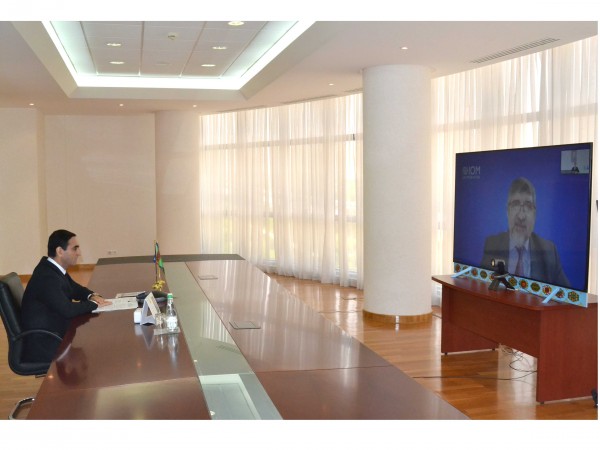 Today, on June 2, the online meeting between the Deputy Minister of Foreign Affairs of Turkmenistan Vepa Hadjiyev and Regional Coordinator of the International Organization for Migration (IOM) for Central Asia, the head of the representative offices of the IOM in Kazakhstan, Kyrgyzstan, Turkmenistan and Uzbekistan Zeynal Hajiyev.
During the constructive talk the parties once again confirmed their interest in further expansion of cooperation on priority directions.
The issues of strengthening the legal base of interaction have been discussed. As known, Turkmenistan takes an active part in various regional projects of the IOM, implementing there the national segment.
The sides also considered the issues of the General Agreement between the Government of Turkmenistan and the International Organization for Migration on financing and co-financing of projects, which is the new experience of interaction with the IOM for the Turkmen side.
Issues related to the implementation of a new national project "Launching a National Referral Mechanism for Victims of Trafficking in Human Beings in Turkmenistan" were considered in detail. In this context, the actions of Turkmenistan at the national level to combat trafficking in persons were outlined, including providing victims with appropriate legal and social assistance. It was also underlined the necessity of organization the training courses for the specialists to study established procedures for dealing with victims.