Turkmenistan and the PRC have discussed the prospects of development of strategic cooperation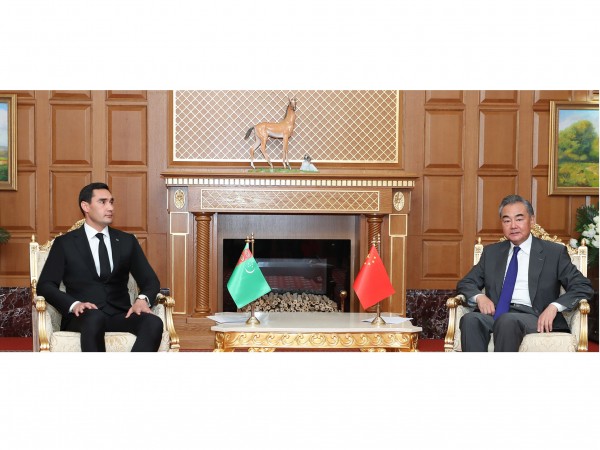 On the 13th of July 2021, the Minister of Foreign Affairs of the People's Republic of China Wang Yi was received by the President of Turkmenistan Gurbanguly Berdimuhamedov.
During the constructive talk, the high level of bilateral ties in political, trade-economic and cultural-humanitarian spheres was confirmed.
The importance of cooperation of Turkmenistan and China in the framework of regional and international formats was underlined. The bilateral issues were considered, as well as the key aspects of regional and international agendas.
Then a meeting of the Deputy Chairman of the Cabinet of Ministers of Turkmenistan, head of the Turkmen side of Turkmen-Chinese Intergovernmental Committee on Cooperation Serdar Berdimuhamedov with the Minister of Foreign Affairs of the People's Republic of China Wang Yi was held.
The priority issues of bilateral agenda were considered. It was especially stated that the current visit of the head of the MFA of China to Ashgabat is tied to the start of a new stage of strategic cooperation between Turkmenistan and the PRC.
In this context, a wide spectrum of issues was considered related to the implementation of agreements reached at the highest level. During the meeting, the parties also discussed the opportunities for the expansion of economic and investment collaboration between the two countries.
The sides also underlined the necessity of further expansion of bilateral ties in the area of energy, transport, economy, culture and education where a favorable potential for mutual implementation is present.