Youth Conference on Climate Change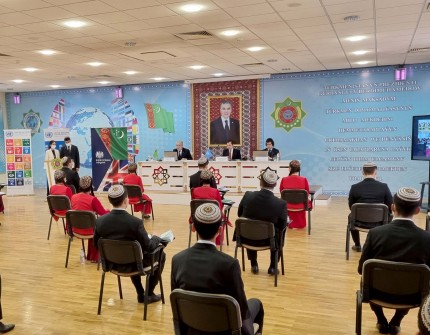 On October 8, 2021, the first Youth Conference on Climate Change in Turkmenistan was held at the Institute of International Relations of the Ministry of Foreign Affairs of Turkmenistan in hybrid format. The event was organized jointly by the Ministry of Foreign Affairs of Turkmenistan, the British Embassy and the UN Permanent Mission to Turkmenistan ahead of the Conference of Youth (COY16) and the 26th session of the Conference of Parties (COP26) of the UN framework Convention on Climate Change in Glasgow.
Representatives of the relevant ministries, agencies and public organizations of Turkmenistan, international experts, representatives of diplomatic missions in the country, young SDG Ambassadors, and students of relevant universities of Turkmenistan took part in the conference.
The UN Secretary-General's Envoy on Youth, Jayathma Wickramanayake, UN Resident Coordinator in Turkmenistan Dmitry Shlapachenko, Ambassador of Italy to Turkmenistan Luciano Galli, COP26 Regional Ambassador David Moran and others made statements during the conference.
The event provided an opportunity for participants to share their experiences, knowledge, opinions and ideas to strengthen actions to address global climate change, as well as to discuss key climate change issues affecting Turkmenistan and develop necessary measures to them.
As a result, the Final Summary of Youth Initiatives in Turkmenistan for COY26 and COP26, as well as the Roadmap for creative solutions to address climate change were adopted.