Priorities of joint work of Turkmenistan and UN Counter-Terrorism Office were discussed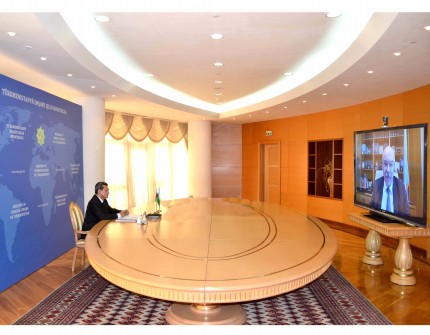 Today, on October 13, 2021, the meeting of the Deputy Chairman of the Cabinet of Ministers, Minister of Foreign Affairs of Turkmenistan Rashid Meredov with the Under-Secretary-General of the United Nations, Head of Counter-Terrorism Office Vladimir Voronkov was held in the format of a videoconference.
During the meeting, the sides noted the constructive nature of strategic cooperation between Turkmenistan and UN in wide range of areas. The Turkmen side, highly appreciating the activities of the UNOCT, expressed intention to develop cooperation with the Office on further implementation of the UN Global Counterterrorism Strategy in Central Asia.
The issues of bilateral and multi-format cooperation in the implementation of UN Global Counterterrorism Strategy in Central Asia were discussed in detail. The important steps of the Government of Turkmenistan in this direction were emphasized.
Discussing issues of information security and cooperation on youth issues, the sides focused on adoption of universal legal acts under the UN auspices to ensure information security.
Turkmenistan, supporting the central role of the UN in consolidating international efforts to combat transnational organized crime, supports development of new international legal instruments to counter emerging threats, in particular cybercrime and related challenges to international information security, the head of the Foreign Ministry of Turkmenistan emphasized.
The importance of the Ashgabat Declaration of 2011 and the Central Asia's Joint Plan of Action to counter terrorism, which paved the way to the adaptation of the UN Global Counter-Terrorism Strategy to a specific region, was underlined.
The parties especially emphasized the importance of the resolution of the UN General Assembly entitled "the Role of the UN Regional Center for Preventive Diplomacy for Central Asia" that was initiated by the Turkmen side.
During the meeting, the parties emphasized the success of joint activities of the UN Counter-Terrorism Office and the Regional Center for Preventive Diplomacy in developing the "National Strategy of Turkmenistan for the Prevention of Violent Extremism and Countering Terrorism for 2020-2024", which was adopted in December 2020 and is being successfully implemented at present.
In the framework of the meeting, the Head of the UN Counter-Terrorism Office was invited to participate in the International Conference «Peace and Trust Policy - Basis of International Security, Stability and Development», which will be held on December 12, 2021 in the Turkmen capital.
It was noted, that this international forum would be the logical conclusion of a large-scale campaign to strengthen a culture of peace and trust in international relations during the International Year of Peace and Trust initiated by Turkmenistan.