Priority issues of interaction between Turkmenistan and the UNHCR were discussed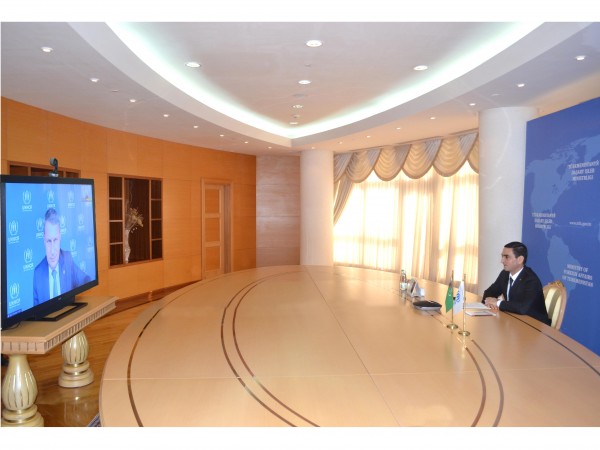 On November 19, 2021, Deputy Minister of Foreign Affairs of Turkmenistan Vepa Hajiyev met with Regional Representative of the Office of the United Nations High Commissioner for Refugees (UNHCR) in Central Asia Hans Friedrich Schodder in videoconference format.
During the meeting, the sides gave a brief overview to the joint work done in 2021 and reviewed the implementation of previously reached agreements. The sides emphasized the strategic nature of Turkmenistan's partnership with the United Nations and its specialized agencies. It was stated that human security remained a priority area of interaction.
By acceding to the main international legal documents of the UN on refugees and stateless persons, Turkmenistan in fact confirms its commitment to international obligations, stressed V.Hajiyev. Turkmenistan, as a permanent member of the Executive Committee of the UN High Commissioner for Refugees, is contributing to the efforts of the international community by carrying out targeted work and taking effective steps to assist refugees, stateless persons and protect their rights.
The National Plan of Actions for liquidation of statelessness for 2019-2024 is being successfully implemented. In this regard, it is important to note that Turkmenistan's commitment to the elimination of statelessness fully meets the UNHCR's call for a decade to eliminate statelessness for 2014-2024 as part of the global campaign "I BELONG".
Turkmenistan also regularly participates in dialogues and meetings at various levels organized by UNHCR.
As is known, in the framework of this year's Joint Action Plan a lot of work has been done to enhance capacity and awareness of the younger generation and professionals on refugee and statelessness issues.
The Turkmen side invited the UNHCR representative to participate in the International Forum on Peace and Trust, dedicated to the celebration of the International Day of Neutrality, which will be held in Ashgabat on December 12, 2021.