Delegation of Turkmenistan took part in the launching ceremony of the new UNODC Regional Program for Central Asia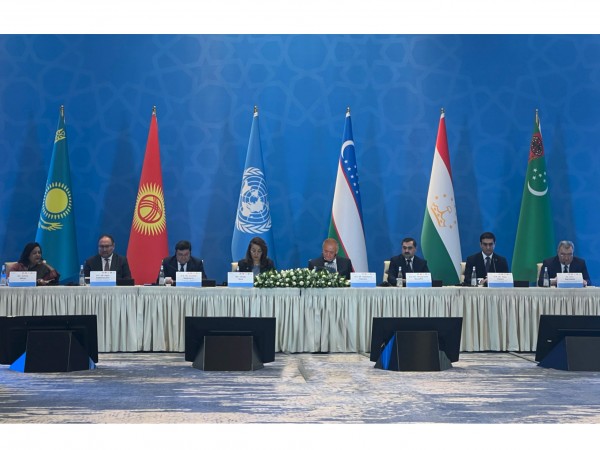 On November 24, 2021, in Tashkent city, with the participation of UN Under-Secretary-General, UNODC Executive Director Ghada Fathi Waly the signing and launching ceremony of the new UNODC Program on Drugs and Crime for Central Asia for 2022-2025 took place.
The delegation of Turkmenistan in the multilateral dialogue was headed by the Deputy Minister of Foreign Affairs Vepa Hajiyev.
As was emphasized during the speeches, the launch of this regional program will dynamically increase the capacity of law enforcement agencies of Central Asian countries, as well as fight against corruption, human trafficking, drug trafficking and organized crime.
There was also a constructive exchange of views on expanding multifaceted cooperation in combating modern challenges, such as cybercrime, information and biological security.
Emphasizing the strategic nature of cooperation of Turkmenistan with the UN and its specialized agencies, the head of the Turkmen delegation said that Turkmenistan places special emphasis on cooperation with the UN Office on Drugs and Crime based on the concept of a comprehensive holistic approach to security and indivisibility of its aspects.
Turkmenistan is currently actively continuing its work on the regional implementation of the UN Global Counter-Terrorism Strategy, based on the provisions of the 2011 Ashgabat Declaration and the Joint Action Plan on Countering Terrorism in Central Asia.
As is known, Turkmenistan, as a member of the Commission on Narcotic Drugs for 2020-2023, intends to continue its efforts in addressing the issues of the multilateral agenda on combating this problem. In this context, Turkmenistan offered to host the 55th session of the Sub-Commission on Illicit Drug Trafficking and Related Matters in the Near and Middle East.
The systematic and consistent nature of cooperation of Central Asian countries with UNODC was especially noted. Today, we have once again confirmed it by signing, jointly with UNODC, a regional program for Central Asian countries for 2022-2025, V.Hajiyev added.